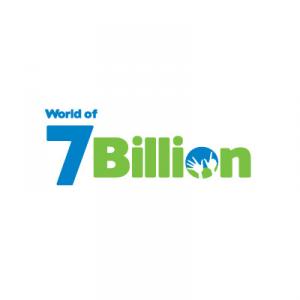 World population reached seven billion in 2011 and Population Education debuted some new teaching activities to mark the occasion. The World of 7 Billion website is home to lots of teacher-friendly activities that are classroom-ready and will get your students to actively engage in these timely issues. All of the lesson plans are correlated to the national content standards and Common Core State Standards.
Web-based activities. ©2011
No need to add it to your cart. Visit World of 7 Billion now!
---
Preview Activities
Watch Your Step (pdf): Students learn about the concept of the ecological footprint by taking an online quiz about their resource use and then exploring why the footprint is an important measurement of their impact on the earth's resources.
Development in Motion (pdf): Using the "trendalyzer" program from www.gapminder.org, students construct and interpret dynamic graphs and discuss differences in life expectancy, fertility rates, health, economics, and total population among several different countries.
A Girl's Life (pdf): Students read an article about women's status in less developed countries and watch/listen to several online photo essays and videos of women around the world. They discuss what they have learned and extend their learning with research, persuasive essays and/or book reports.
Related Products