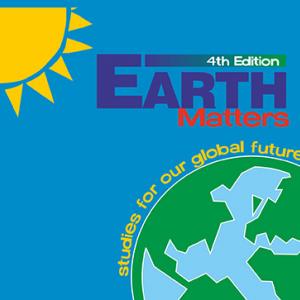 Out of Stock. We are currently working on a new edition of Earth Matters that should be available by Spring 2018. If you would like to receive an email when it is available to purchase, please let us know. In the meantime, consider purchasing individual Earth Matters units that are available for immediate download.
Earth Matters explore some of the most pressing environmental, social and economic issues of our time on an easy to use CD-ROM. Through 32 readings and 43 innovative teaching activities, high school students can begin to understand the complexities of population pressures, climate change, natural resource use, wildlife endangerment, distribution of wealth and food, urbanization, public health, gender equity, economic progress and how all these issues are interrelated.
Each unit also contains a glossary and lists of suggested books and websites for further research. Most importantly, Earth Matters helps prepare students to be "global citizens," using critical thinking and creative problem-solving techniques. 
The 16 thematic units include: Air Pollution, Biodiversity, Climate Change, Energy, Food and Hunger, Forests, Oceans, Personal Consumption, Population Dynamics, Public Health, Rich and Poor, Solid Waste, Sustainable Economics, Urbanization, Water Resources, and The World's Women.
CD-ROM (Windows/Macintosh). © 2012
Note: Each individual unit can be downloaded separately for $3 per unit.
---
"A course that used this text would be valuable in all high school curricula, as students would be stimulated to learn more about global reality and what must be done to achieve sustainable socioeconomic systems." – American Association for the Advancement of Science, Science books and Films
"The resources in Earth Matters are a valuable addition to the green teacher's repertoire, and are well worth the price."  - Green Teacher magazine 
---
Preview Activities
Earth: The Apple of Our Eye (Secondary Version) (pdf): A visual demonstration that illustrates the limits on farmland, making the importance of conservation clear.
See the demonstration video »
Food for Thought (pdf): In this global simulation, students act as the residents of five major regions of the world, compare various statistics that affect people's health, happiness, and well-being.
Generating Heat (pdf): Students observe and graph current carbon emissions and population growth trends using a computer simulation, then analyze the data.
Power of the Pyramids (pdf): Students construct and interpret population pyramids (age-sex distribution charts) and discuss differences among several different countries.
See the demonstration video »
Water, Water Everywhere (pdf): Students observe a brief demonstration on the distribution of the world's water and then calculate how much water they use on a daily basis, both directly and indirectly.
See the demonstration video »
A Woman's Place (pdf): Students read about and discuss a woman's life and child-bearing decisions in sub-Saharan Africa, examine the role of gender preferences in families and create oral reports in groups that examine the status of women in different countries.
Preview Readings
The People Connection (pdf): An overview of world population history, current demographic trends, and the concept of "carrying capacity."
Oceans Away (pdf): Take a closer look at the largest habitat on Earth and see the impact of humans' demands for food sources, transportation, and resources.
Kerala: A Model Case for Education (pdf): A case study on the Indian state of Kerala, which leads the country in women's education, family planning use and social development.
Related Products