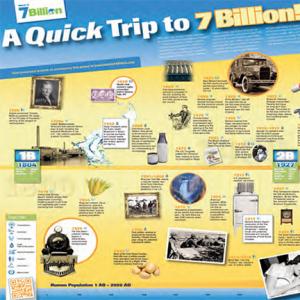 ** Item is out of print, available on-line only **
This wall chart is part of the World of 7 Billion, an educational campaign to help educators, and students, mark the addition of Earth's 7 billionth member. On one side of the wall chart you'll find a timeline of historical events, inventions and social movements that have affected birth and death rates over the past 200 years, bringing us to 7 billion in 2011. The other side of the wall chart uses a variety of colorful infographics to show the challenges we face as a growing global family - from meeting our basic human needs to the delicate balance of natural ecosystems.
The poster is now out of print but available for use online here: www.worldof7billion.org/teacher-resources/wall-chart/
Accompanying teaching activities for middle and high school classrooms can be found at www.worldof7billion.org.
© 2011
Related Products