I had the pleasure of speaking with Our Climate Voices founder, Aletta Brady. Aletta's climate activism is rooted in humanizing the climate crisis and grounding the climate movement in the fact that climate justice is, at its core, a social justice struggle. I hope you enjoy the following profile on Our Climate Voices and allow this impressive organization's work to inspire your own future climate action.
There is a shifting approach to how climate change activists and organizations are framing the climate crisis. Having learned valuable lessons from the storytelling success of the Marriage Equality, Black Lives Matter and #MeToo movements, the Climate Change movement is grounding climate narratives in the human experience and the fact that climate change exacerbates every social injustice that we currently face.
Our Climate Voices (OCV) was one of the first grassroots organizations to harness the power of humanizing the climate crisis. Aletta Brady founded OCV in 2016 with the aim of reclaiming the climate narrative that the fossil fuel industry hijacked, which deceitfully shifts the focus of climate crisis responsibility away from fossil fuel companies and onto individual consumers. OCV augments climate stories to spark climate action by humanizing the climate disaster through storytelling, centering the voices of those most impacted, and connecting people with grassroots solutions to make an immediate and local difference.
More on the Founder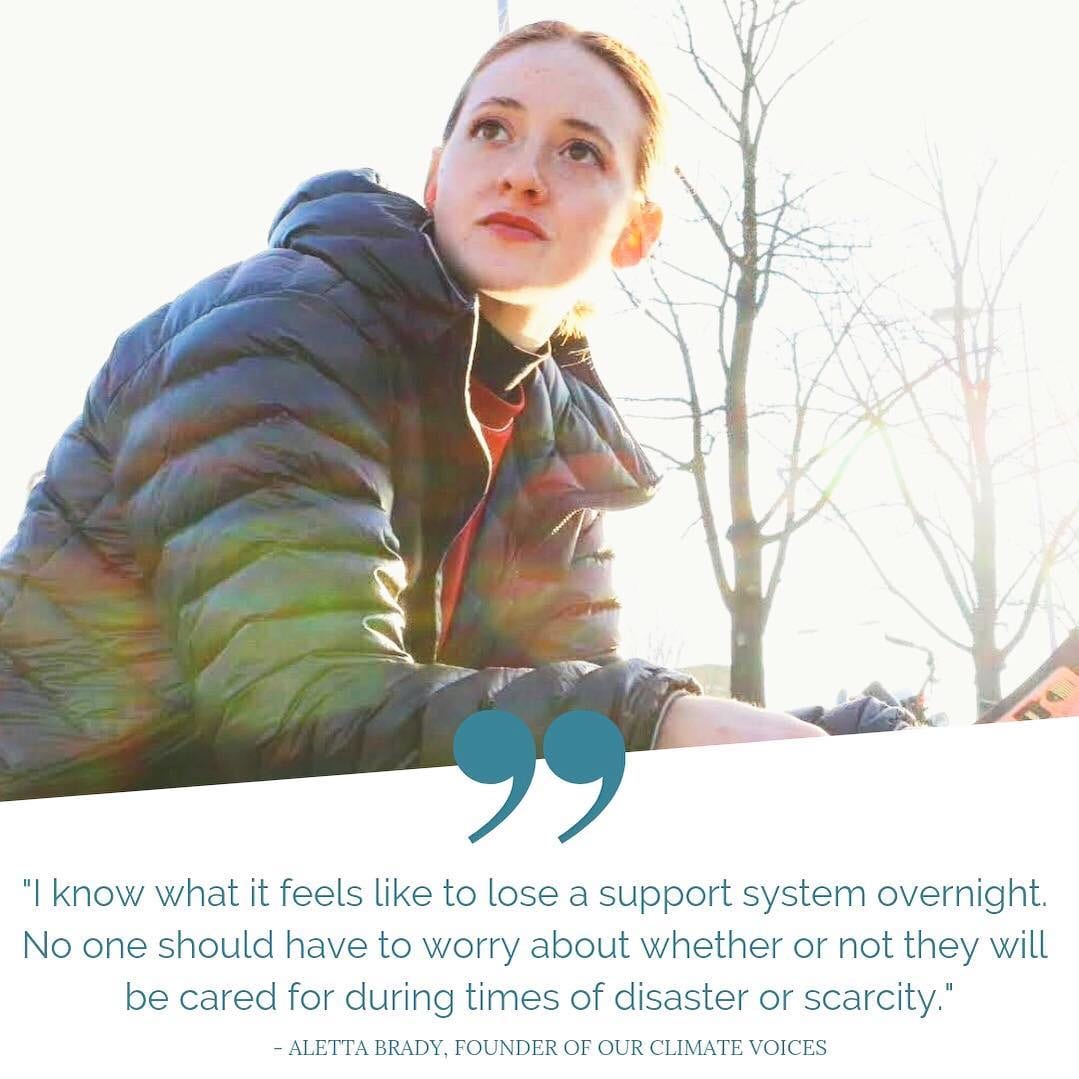 Aletta has been interested in environmental justice since they were in elementary school. Their activism began in the fourth grade when they noticed Minneapolis Public School busses idling in front of their school; the proximity of diesel fuel emissions from the busses' exhausts was a public health concern. When Aletta further inquired, they learned school busses could legally idle in front of Minneapolis Public Schools, but could not when in the city's suburbs. This injustice sparked Aletta to join the Sierra Club's youth contingent, where they played a leading role in passing legislation for Minneapolis Public Schools to "reduce the unnecessary idling of school buses in front of schools, and reroute bus parking zones away from air-intake vents (or if necessary, relocate the air-intake vents)."
Aletta's early interest and success in advocating for environmental justice solutions led them to joining multiple environmental organizations. They were left frustrated by the movement's framing of environmental issues as negatively impacting nature, without highlighting how individuals are impacted, especially how climate change exacerbates social injustice. This led Aletta to creating OCV.
OCV's Approach to Climate Activism
"Climate change is 'the great exacerbator' of social issues." Aletta and the OCV team recognize how the climate crisis exacerbates racial injustice, gender injustice, LGBTQ+ injustice, economic injustice, disability injustice, and beyond. Over the past four years, OCV has employed a variety of projects to draw these connections. Their Storytelling Series, Listening Series, and #ClimateChangeIsPersonal campaign center front line voices in climate narratives. Some of the most important values they operate from include the incorporation of ethical and enthusiastic storytelling in their publication work and "resisting the culture of capitalism and white supremacy" in their internal structure.
Ethical Storytelling
Inspired by Adrienne Maree Brown's quote, "Move at the speed of trust," OCV ensures every single story they produce honors the storyteller (the person whose story is being told).
In their Storytelling Series, OCV collaborates with folks within the United States and abroad who are traditionally left out of mainstream climate change conversations to center their voices and leadership within the climate justice movement.
In their Listening Series, OCV brings together leaders from the climate movement and broader fights for social, economic, and racial justice to be In Conversation about how to build deep relationships and coalitions to achieve collective liberation, growth, and transformation.
OCV's #ClimateChangeisPersonal campaign invites individuals to claim ownership of their climate stories and how climate change impacts their lives, communities, and loved ones. OCV is collaborating with partners to harness and share these stories through an interactive and dynamic social media campaign, which will feature various actions and reflections on the intersectional nature of the climate crisis.
Response to COVID and Police Brutality
OCV hosted two series of summer workshops intentionally designed to hold space for their community to process what it means to connect to climate in this moment of a global pandemic and the historic issue of police brutality. OCV is also in the process of producing a film titled, Police in Our Climate, highlighting the intersection between environmental racism and state-sanctioned police violence and brutality.
Internal Structure
The workflow challenges COVID-19 and police brutality have posed for OCV staff further confirmed for the organization why "resisting the culture of capitalism and white supremacy, which is manifested in productivity expectations," has been the foundation of their internal structure. The way the organization moves internally is a foundation for how it moves externally. Aletta's leadership style has always prioritized the needs of their colleagues to feel cared for, and this year has not been any different. This has allowed OCV staff to feel they are a collective and become excited about their work because there is not an obligation to produce materials faster than at the speed of what is energizing. This collective-support model is indicative of OCV's vision for a climate just future.
Looking into the Future
In order to live in a world that prioritizes climate justice, OCV believes we must first "envision what we want that world to look like." OCV imagines "a just transition that uplifts the resiliency and community care/love of BIPOC, LGBTQIA+ people, and differently abled folks." In order to get there, OCV believes we must take ownership of how the climate crisis is a deep social justice issue. Aletta continues to encourage the climate justice community to put aside ego and consider what it means to live collectively and support each other. To Aletta and OCV, that is what a climate justice future looks like – a future where we collectively care for and provide for each other.
Image credit: All images are courtesy of Our Climate Voices.