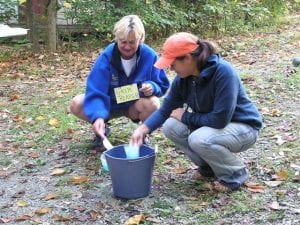 Incorporate population education activities into your work at environmental education centers, zoos, aquaria and science museums. Population Education offers workshops for staff development, as well as for teacher groups.
Understanding human population pressures is integral to human ecology. Whether your educational programs focus on threats to habitat and biodiversity or how natural resource use affects ecosystems, Population Education can create an activity agenda that complements and enhances your center's work. Requested workshops can be as short as a lunch-hour introduction to Population Education or as long as a full-day, in-depth teacher workshop.
Population Education teaching resources are currently in use at a number of nonformal sites including the American Museum of Natural History (NY), Woodland Park Zoo (WA) and the Columbus Zoo (OH). Look for us at state and regional environmental and outdoor education conferences. Here is a selection of recent sites where we have facilitated staff development workshops.
Chaffee Zoological Gardens (Fresno, CA)
Central Florida Zoo and Botanic Gardens (Lake Monroe, FL)
Florida Solar Energy Center (Cocoa, FL)
East Kentucky Science Center (Prestonsburg, KY)
Lathrop E. Smith Environmental Education Center (Rockville, MD)
Como Park Zoo and Conservatory (St. Paul, MN)
Minnesota Zoo (Apple Valley, MN)
Science Museum of Minnesota (St. Paul, MN)
North Carolina Zoo (Ashboro, NC)
Greenbelt Nature Center (Staten Island, NY)
Glen Helen Outdoor Education Center (Yellow Springs, OH)
Lake Erie Nature and Science Center (Bay Village, OH)
IslandWood (Bainbridge Island, WA)