Population Education hosts Leadership Institutes every year. These facilitator training events prepare members of our volunteer trainers network to lead workshops and webinars for formal and non-formal educators in a variety of settings.
Leadership Institutes are essentially free of charge; we cover the cost of accommodations as well as most meals and travel expenses.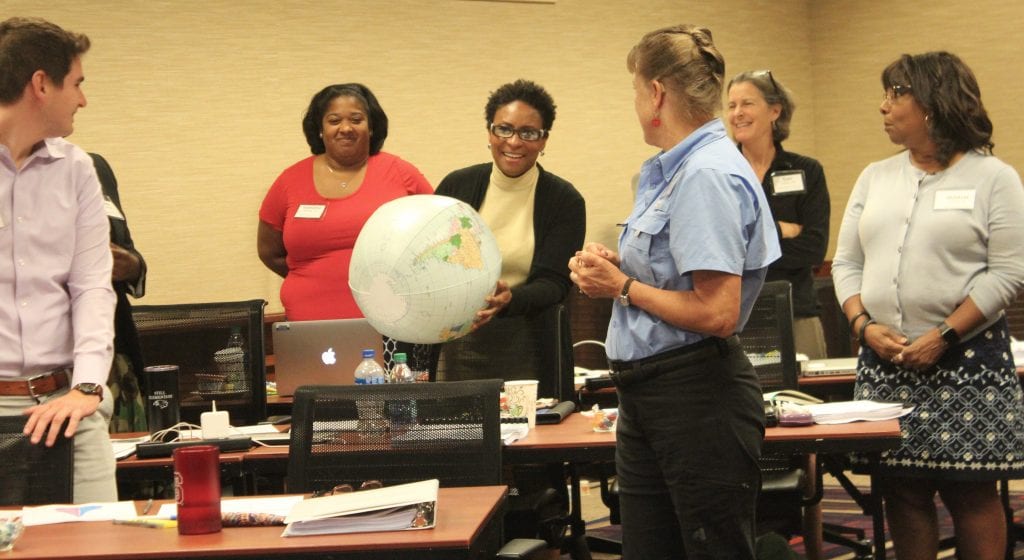 National Institute
The 2023 National Leadership Institute will be held in-person in Seattle, WA on Friday, July 21 – Sunday, July 23, 2023 at the Cedarbrook Lodge.
During the event, participants receive thorough training on facilitating PopEd lessons and the PopEd workshop format. It's also a wonderful opportunity to meet others who are committed to Population Education.
Regional Institutes
Two in-person Regional Leadership Institutes will be held in 2023.
New Orleans, LA: Friday, July 14 – Saturday, July 15, 2023 at the Loews Hotel
St. Louis, MO: Friday, September 22 – Saturday, September 23, 2023 at the Moonrise Hotel
While similar to the National Leadership Institute, Regional Institutes are designed for teachers within driving distance of the event and are condensed in format. Pre- and post-Institute engagement ensure that all participants will be fully prepared to facilitate PopEd workshops and webinars.
Interested in Attending?
Sign up HERE to receive an email when information and applications become available.
---
"Thank you for your recent workshop. It was one of the best organized, enjoyable and relevant workshops I have attended."
— Howard Aprill, Naturalist, Milwaukee, WI
"Thank YOU for organizing a really amazing weekend. I've already been in touch with several of my "classmates" regarding ideas we all wanted to follow up on."
— Dr. Sarah Fry, Boise State University

"This is a first class organization run by wonderfully committed people. I hope to remain associated with your group for a long time."
— Jerry Zinner, Adjunct Professor of Education, University of North Carolina, Wilmington