Trainer Spotlight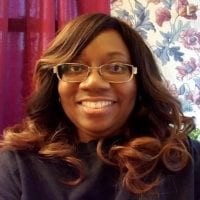 Anita Lewis
Anita Lewis is a sixth grade social studies teacher at Westbrook Intermediate School in Friendswood, TX. She has been a Texas educator for over 25 years and is a current PhD candidate at the University of Houston in Professional Leadership. Anita found PopEd when she was in search of content and resources to support her new role as a middle school social studies teacher. She was so thrilled with the activities, information, and resources that she immediately signed up to be a trainer. Since joining the network in 2016, she has been an enthusiastic and passionate PopEd workshop facilitator.
Anita enjoys sharing PopEd resources with other educators at local, district, regional, state and national social studies conferences. Her ultimate goal is to actively engage the teachers the same way they should actively engage their students in developing an awareness of population issues and impact. Her favorite activities encourage movement and active discussion, including People on the Move, Eco-Ethics, and Take a Stand.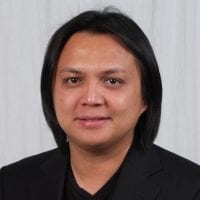 Augusto Macalalag
Dr. Augusto Macalalag is an Associate Professor of STEM Education at Arcadia University in Glenside, PA, where he is also the coordinator of general science, biology, chemistry, and mathematics teacher education programs. He is particularly interested in reform-based science and helping teachers integrate inquiry-based lesson design in their classrooms. In 2013, Augusto received the Steve Goldberg Faculty Development Award from the School of Education at Arcadia.
Augusto joined the PopEd trainer's network in 2015 after attending a workshop at the Hershey Lodge in Pennsylvania. His favorite activity is Panther Hunt, because it "shows the complexity of human behaviors and intuitions, while imitating panthers, to get food in order to survive." He also appreciates the way that the experiences of the panthers in their community can be mapped to the advantages and disadvantages that people face in their own communities.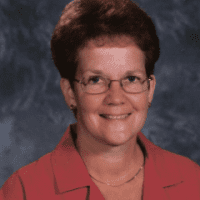 Cathy Knoop
Cathy Knoop has been an Ohio educator for over 30 years, and a Trainer with PopEd since 2008. Now a retired elementary science teacher from central Ohio, Cathy continues to teach a Natural History course at Ashland University. She and her husband, Paul – both environmental educators – provide programs for adults and children on the natural world. Cathy has received a number of teaching awards including the Walt Disney Company's American Teacher Award and National Conservation Teacher of the Year from the National Association of Conservation Districts.
Cathy is passionate about the issues of population growth and consumption, and believes they are important to address "if we want future generations to be able to enjoy our planet as we know it." Cathy has found PopEd materials to be uniquely suited to addressing these issues: "Of any materials that I refer to when presenting workshops, Population Education's are the most unique, and to me, the most relevant as we strive to prepare more global citizens."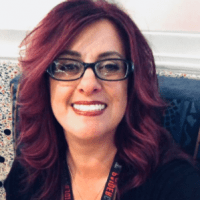 Holli Gonzalez
Holli Gonzalez is the Science Instructional Specialist for the Bakersfield City School District in Bakersfield, CA and a 17-year veteran science teacher. She also works as an adjunct lecturer at California State University, Bakersfield, where she has conducted a number of Population Education workshops with her pre-service students since joining the trainer's network in 2016. Holli is a NASA Solar System Ambassador and a current PhD candidate in Global STEM Education from Texas Tech University.
Holli's favorite PopEd activities include Mining for Chocolate and Earth: The Apple of Our Eye, which she describes as a "big eye-opener" for her pre-service students. She conducts a PopEd workshop with her students every semester and appreciates the way her students are always excited about using PopEd resources in their own classrooms.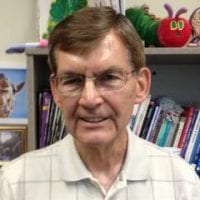 Jerry Zinner
Dr. Jerry Zinner became a PopEd Trainer in 2011 after hosting a workshop in his class and discovering the program. He has since completed over 40 Population Education workshops. Jerry is an adjunct professor in the Watson School of Education at the University of North Carolina, Wilmington. He's been in the educational field for over 50 years, starting as an elementary teacher in Pennsylvania.
Jerry's favorite PopEd lesson is Who Polluted the Potomac? because it gets the biggest participant reaction, especially when he modifies the activity to make it local to the Cape Fear River. He states that in his workshops, "wherever possible, I strive to keep it local. If teachers can relate the lesson to anything local, it helps engage students and further the lesson." He enjoys the hands-on and minds-on facilitations and stresses that the content in PopEd lesson plans and activities is so important – maybe now more important than ever.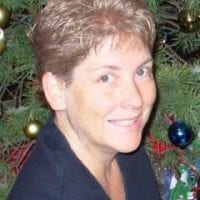 Jodi Bondy
As a former high school biology teacher and Academic Advisor in Indiana, Jodi Bondy found the PopEd materials to be a fruitful addition to her lessons—sometimes even causing her students to race into the classroom, eager to partake in the activities. Jodi wanted to share these resources with other teachers and thus joined the PopEd Trainer's Network in 1994. She loves the opportunity it provides to work with future teachers: "When doing pre-service teacher workshops, I try to make them see how much fun teaching can be!
One of her favorite memories as a trainer occurred during an Earth Day presentation at her school, where she facilitated a super-sized version of the global simulation Food for Thought. Facilitating this activity on such a large scale, says Jodi, was a "pretty powerful moment." Jodi encourages other educators to join the PopEd Network, noting the many contacts she has made and that "all you need is time and enthusiasm to do the workshops."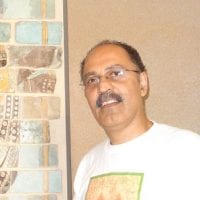 Khodi Kaviani
Dr. Khodi Kaviani is an Associate Professor of Education at Central Washington University. He is particularly interested in how ideology and education intersect, Middle Eastern politics, and ancient Iranian culture. Khodi first joined the trainer's network in 2014 after attending a three-day workshop on Bainbridge Island in Washington State; he was impressed by the way PopEd's activities raise awareness about how people impact the environment.
Khodi has facilitated a wide variety of workshops for PopEd and has worked with pre-service and in-service teachers across a breadth of subject areas. His favorite lessons include Earth: The Apple of Our Eye, Mining for Chocolate, and Eco-Ethics. One of his favorite moments as a trainer was doing the lesson Waste A-Weigh, where food scraps are collected and weighed after each day's lunch. By the third day, the group's food waste had been reduced to the bare minimum. Khodi recalls the activity as a fond memory: "What a beautiful lesson!"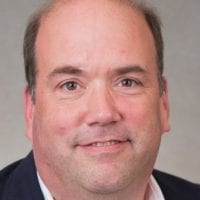 Michael Jabot
Dr. Michael Jabot is a Professor of Science Education at SUNY Fredonia, where he has taught since 2001. Mike is involved in a number of science education initiatives, serving on the New York State Science Advisory Committee and the Lead Team for the Next Generation of Science Standards (NGSS). He has received the Chancellor's Excellence Award in research and in 2019, was appointed a SUNY Distinguished Teaching Professor. Michael joined the PopEd trainer's network in 2015 and has presented nearly 20 workshops!
Mike says that as a science educator, he has always sought to link science to its real-world impacts on people and the way people shape scientific issues. His favorite activities to frame these issues are People and Climate Change: The Data is In and Every Picture Tells a Story, because they are "INCREDIBLE opportunities to confront head on what we think we understand about the world around us by investigating the interaction between the Human Journey and the Changing Planet." He enjoys seeing the way his pre-service students take PopEd activities into their own classrooms and expand even further on what they've learned.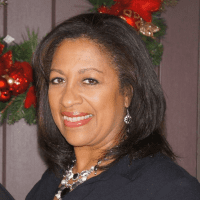 Tawn Hauptli
Dr. Tawn Hauptli is a faculty member in the Education Studies Department at Mesa Community College in Mesa, AZ. She transitioned to working in higher education in 2001 after years working as both a preschool teacher and high school English teacher. She is a strong advocate of multicultural education and diversity, serving as the inaugural chair of the Human Relations Commission from 2001 to 2003 and earning the Mesa Dr. Martin Luther King, Jr. Spirit of Unity Educator of the Year Award in 2014.
Tawn joined the trainer's network in 2017 after attending a workshop and appreciating the learning opportunities that it provided. Since then, she has facilitated workshops at many different college campuses and conferences. Her favorite activity to present is Panther Hunt, which she says participants always enjoy, and recently enjoyed facilitating Take A Stand for the first time, saying it "generated a lot of discussion, and allowed the attendees to process ways they might encounter issues with the topic." Her most memorable moment as a PopEd facilitator was presenting a workshop at Arizona State University, West and discovering that the host professor was an old colleague of Tawn's husband. The workshop went well, and "it was so much fun to share the content with a friend of many years."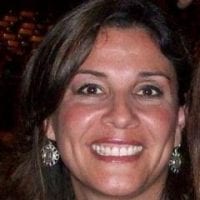 Cristina Valentino
Cristina Valentino has a broad teaching background, having served as a university professor, a K-12 teacher, and a principal in a K-12 school. She became part of the PopEd Trainer's Network in 2007 and has since facilitated several workshops in the Florida area, including teacher pre-service classes at Jacksonville University as well as at a TEACH conference.
Cristina appreciates how the PopEd curriculum and workshops help participants think outside the box and incorporate new activities into their teaching. Equally important, the curriculum opens up the students' mind to important issues concerning population: "It prepares our teachers with activities that make our students K-12 more critical thinkers about what is going on in the world right now." Cristina's favorite activities to facilitate include Earth: Apple of Our Eye and Panther Hunt.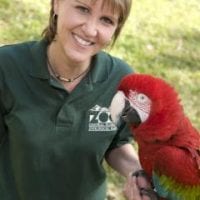 Terri Clark
In 2002, Terri Clark attended her first PopEd training session, in search of additional materials to use in teacher workshops she facilitated at the Central Florida Zoo & Botanical Gardens. Almost 20 years and over 70 workshops later, Terri is one of PopEd's most active Trainers, and she continues to share PopEd resources in her current role as an Education Specialist with the Chattanooga Zoo. Terri explained that PopEd materials are an easy fit for zoo workshops: "There is a natural connection between animals and human population. Loss of habitat due to an increase in population is one of the main reasons for the decline of many species."
Terri's favorite activity is Who Polluted the River? which helps students recognize the ways in which  everyday activities pollute local water sources. She shared: "It allows me the opportunity to discuss limited local water supplies and how we will be drinking the St. Johns River as our 'back up' plan when/if the aquifer runs dry….. Sharing ways we can all help to limit our pollutants brings it all home for the participants."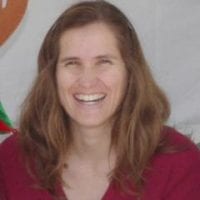 Helen de la Maza
Helen de la Maza has been a trainer with PopEd for over 18 years, facilitating over 45 workshops throughout Southern California. Helen worked for many years at the Orange County Department of Education's "Inside the Outdoors" program before working as a Curriculum & Instruction Consultant for a variety of nonprofit and governmental environmental and outdoor education agencies as well as teaching part-time.
Helen also facilitates workshops for Project WILD and Project Learning Tree, and when asked why she decided to add PopEd to that list, replied, "I was very interested in becoming more familiar with issues of overpopulation and sustainability…because that is the root of a lot of the problems humans, living things, and our planet face!" She loves the activity Take a Stand, where students indicate whether they agree or disagree with a statement read. Helen adds her own twist by sometimes having students take the stance that is opposite of their beliefs. "This helps the participants 'take a walk in someone else's moccasins' and it brings them to a better and more thorough understanding of the complexity of the issues."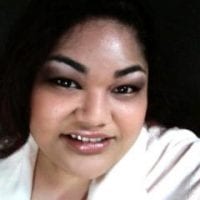 Leifi Tanoi
Leifi Tanoi is a Population Coordinator/Specialist for the American Samoa government. Her role involves educating local students about the environmental and socio-economic impacts that human populations have on the island. For Leifi, population issues hit close to home: "We have begun to depend heavily on food importation, our youth [are] migrating out to seek better employment opportunities, [there is a] depletion of natural resources, etc. These problems will continue to grow if American Samoa's population is left unmitigated."
Joining the PopEd Trainer's Network was a natural step for Leifi, and the workshops she has held across American Samoa have been well received. Participants find the activities fun and easy to use, and relevant to what is happening at the local level. Leifi sees PopEd as an excellent partner in the work that the island is already doing on population issues. "We may be a small island, but we're doing big things!"