Recommended Children's Literature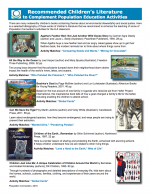 An annotated list of children's books that we recommend to enhance the teaching of Population Education lesson plans and help bring content literacy into the classroom.
---
Reading List: 15 Population-related Books for the Summer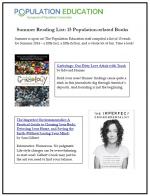 A list of 15 reads for Summer 2014 – a little fact, a little fiction, and a whole lot of fun.
---
Fact Sheets
The Basics of Population Education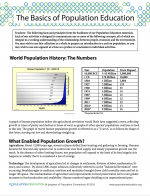 An overview of the concepts and themes covered throughout the Population Education program — the history of our growth and how agriculture and technology enabled our increase; the concept of zero population growth (zpg) and carrying capacity; statistics showing the impact of our growth and consumption.
---
21st Century Skills and Population Education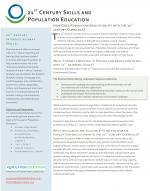 By emphasizing creativity, collaboration, and civic and environmental literacy, Population Education activities address both the skills and the core themes laid out in the 21st Century Skills.
---
Common Core and Population Education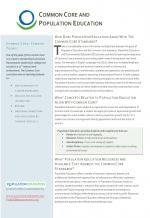 The Common Core Standards call for contextual learning, higher order thinking, and adaptive reasoning in English language arts and mathematics. Population Education materials give students a framework for building these skills in a meaningful way.
---
Early Childhood Education (ECE) and Population Education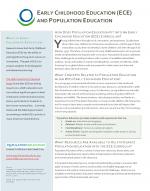 By using tactile, kinesthetic, and visual learning, Population Education brings environmental themes to the early childhood level, building a foundation for global citizenship at a young age.
---
English for Speakers of Other Languages (ESOL) and Population Education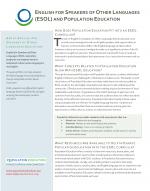 The hands-on and visual approach in Population Education lessons makes them accessible to ESOL students, while also promoting the importance of environmental stewardship.
---
Environmental Literacy Plans and Population Education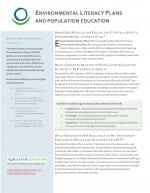 Population education is a necessary component of a well-rounded state environmental education program and will help states meet the benchmarks outlined in their respective ELPs.
---
International Baccalaureate and Population Education: Primary Years Programme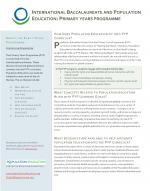 The IB Primary Years Programme emphasizes human relationships with the environment and focuses on the theme of "Sharing the Planet." Population Education materials encourage students to think globally and consider the impacts of the natural world – a perfect fit for the six themes of the the IB Early Years Programme.
---
International Baccalaureate and Population Education: Middle Years Programme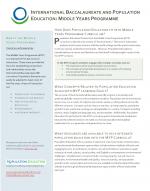 By exploring the interactions of people with the world at large, Population Education activities fit seamlessly within the sub-context of Environments in the Middle Years Programme.
---
International Baccalaureate and Population Education: The Diploma Programme
---
Magazine and Journal Articles