Format
Population Education workshops emphasize hands-on, experiential learning. As such, they are highly participatory. The facilitator uses an interactive approach (rather than a lecture style) to provide participants with a background on the concepts and issues relevant to their grade level and discipline(s). Participants spend most of the workshop session engaged in hands-on, classroom activities. Methods cater to multiple intelligences and utilize highly effective strategies.
In-person activity formats include role-playing simulations, concept mapping, graphing, data analysis, cooperative group problem-solving, debate, labs, interactive stories, demonstrations, and classroom discussion.
Online activity formats include the use of digital gameboards, group simulations, digital graphing, jamboards, and both large-group and breakout room discussions.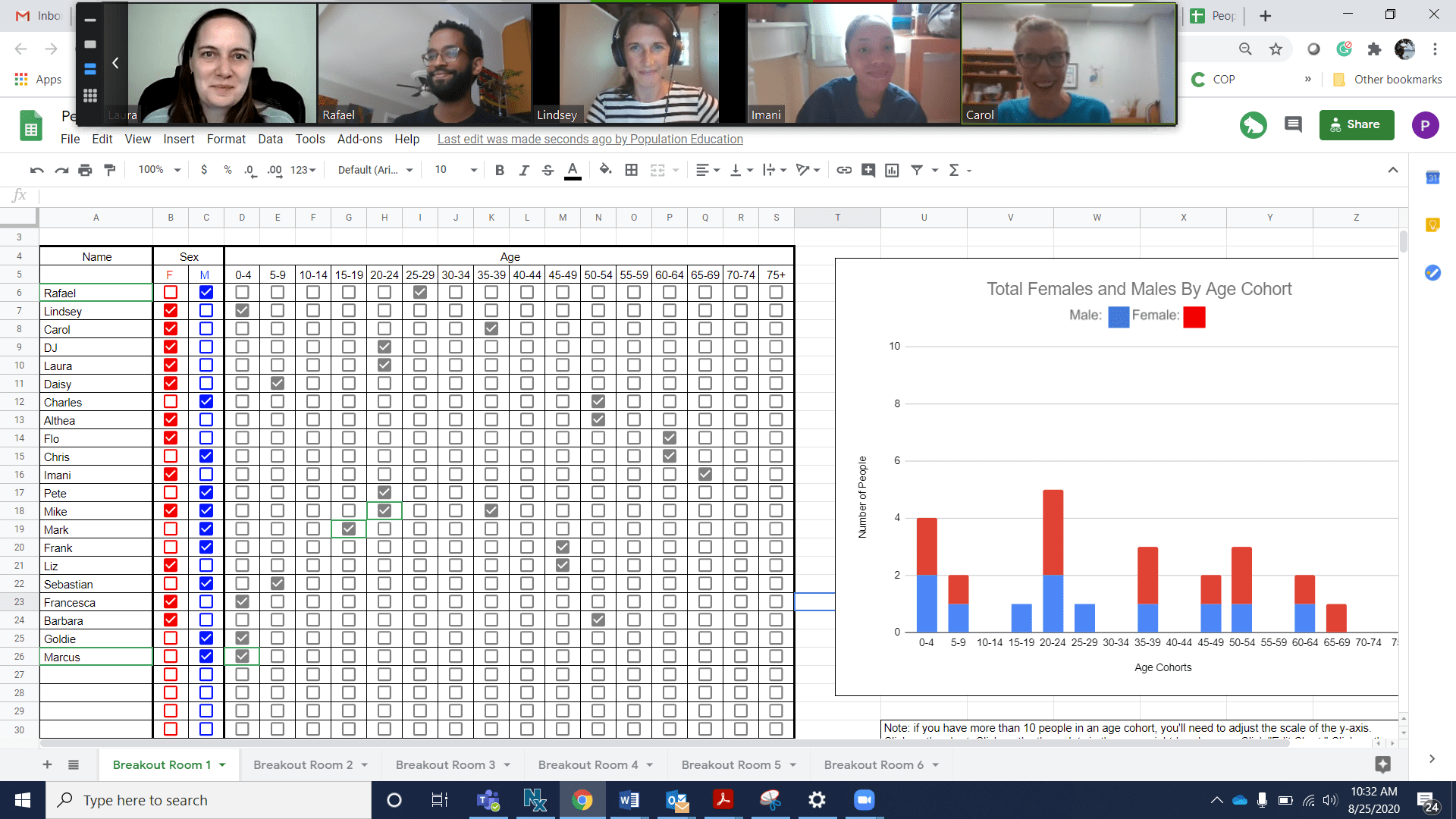 Content
The topics covered and learning strategies for each workshop are customized to be age-appropriate and to correlate with the curriculum content, skills, and processes outlined in state and national standards. The agenda can be developed to emphasize specific disciplines (science, social studies, etc.) or to be more broadly interdisciplinary. Read more about the topics covered for different grade levels.
Materials
Workshop participants receive appropriate curriculum sets based on the subject and grade level that they teach, as well as access to a suite of digital tools for classroom technology integration. All curricula are fully online and accessed via a password-protected website. Additionally, they may receive a selection of handouts including data sheets, wall charts and posters, and annotated bibliographies of recommended literature. All participants will receive follow-up assistance with a bi-monthly online newsletter.
Workshop Fees
As a nonprofit organization, we strive to keep our workshops moderately priced. Fees are a combination of an honorarium cost and per-participant materials fee.
In-Person Workshop Cost: The honorarium fee is $125/hour. Materials fees are $5-$15/person depending on agreed upon hand-outs. Travel expenses may be required. In-person workshops vary in length from 1 hour to a full day, depending on your needs.
Online Workshop Cost: We offer four one-hour online workshops with pre-set agendas at no cost. For customized online workshops, fees are dependent on the level of workshop customization and materials. Online workshops vary in length from 1 to 3 hours.
Discounted PDs for Title 1: We offer discounts covering up to 100% of all PD fees (honorarium and materials) to Title 1 schools. For district-wide events, discounts can apply even when not all participating schools are Title 1 designated.
CEU Approved Provider: Population Education is an approved provider of Continuing Professional Education (CPE) hours in Texas, Act 48 credits in Pennsylvania, and Continuing Teacher and Leader Education (CTLE) hours in New York.