For the next few months, PopEd will be diving deep into the creation and application of models in the K-12 classroom. The practice of "Developing and Using Models" plays a prominent role in the NGSS standards, running throughout the K-12 progression, but is also useful in mathematics and social studies classrooms. Regardless of the subject area focus, modeling is an effective strategy with big-time learning potential.
By seamlessly integrating hands-on learning, exploration of real-world phenomena, and critical problem solving, modeling combines many tried and true best-practice teaching practices in a way that is anchored in 21st century learning. Students can use models to visualize things that are too large or small to see with the eye or to gain concrete understanding of an abstract or complex topic. They can replicate a system observed the real-world or create their own system. Taking it a step further, students can test out a variety of inputs and variables to see how the model responds.
Whatever type of modeling is used, students are given opportunities for deeper understanding, self-directed learning, and practicing the engineering design process.
Free Resources for Teaching with Models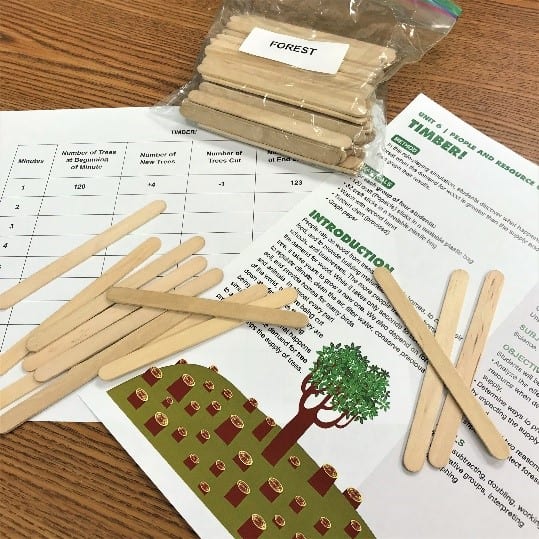 This spring, we will share electronic lesson plans that use models to explore topics related to population, the environment, and society. Lessons will highlight different types of models – visual, mathematical, simulation, and scale models – and give students opportunities to find the benefits and limitations of those models. Here are some questions we'll explore:
What ecology concepts can be taught using models?
How can models be effectively used in the elementary classroom?
Are maps models?
How can models help us explore concepts in social studies and geography?
By following along on social media with #PopEdTheme and #PopEdUsingModels, you will get access to all the free lessons and resources that we share. Many of the shared lessons are not available on our website, so don't forget to follow us on social for full access. Facebook, Twitter
Here's a sneak peek at just a sampling of the teaching materials we'll share:
Timber! (lesson plan, grades 4-6): In this role-playing simulation, students model what happens to a forest when demand exceeds supply.
All in the Family (lesson plan, grades 6-12): Students use beans to model population growth in one of seven mystery countries while varying four key demographic factors.
Study Confirms Climate Models are Getting Future Warming Projections Right A new evaluation shows that most climate models have been accurate.
And last but not least, don't miss our Earth Day webinar, Eco-Modeling for Earth Day: Memorable Lessons for K-8 Learners. The one-hour free teacher training will share lessons and tools to engage students in interactive modeling to investigate environmental phenomena like carrying capacity, balanced ecosystems, habitat destruction, and the concept of "the commons." Register here!
We can't wait to dive into this topic and share a wealth of ideas, resources, and tools for including modeling in your classroom. Don't forget to follow us on your favorite social platform (#PopEdUsingModels) to come along for the ride. Your students will thank you!