This post will conclude our discussion of 21st Century Skills and Population Education we have been having throughout the last month. After exploring the themes of Global Awareness and Health Literacy, we'll now turn to the 21st Century Skill theme of Environmental Literacy. We'll focus specifically on the framework: "demonstrating knowledge and understanding of society's impact on the natural world (e.g. population growth, population development, resource consumption rate, etc.)."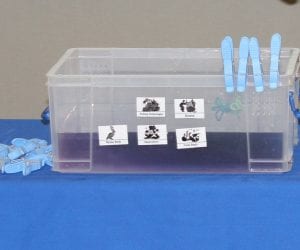 Connecting the Environmental Literacy theme to a Population Education activity is easy! You'd be hard-pressed to find a PopEd activity that does not fit this category, but one does come instantly to mind: Code Blue: Endangered Oceans. Code Blue is an interactive story that allows students to experience the pollution of the world's oceans over time, and has students critically examine ways to protect and manage our oceans. The high school level activity highlights human impacts on natural resources (oceans) by having students add "contaminants" and remove "marine creatures" as the result of human's need for food, energy, travel, and so forth.
The modeling exercise also increases awareness of the effects a growing population has on a natural resource environmentally, economically, and socially by discussing issues related to bycatch, whaling, algal blooms, sea level rise, and events like the 2010 Deepwater Horizon oil spill in the Gulf of Mexico. This examination of society's impact on the oceans is a perfect fit for a 21st Century classroom!