For the next three months, we'll be sharing free, downloadable lesson plans and other K-12 resources for teaching civic skills like debate, media literacy, community planning, service learning and more. To get the lessons, follow PopEd on Facebook or Twitter!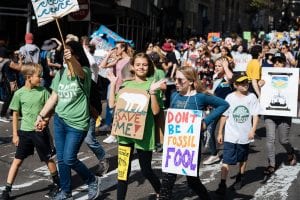 It's a big year for civics. With a presidential election, the census, and Earth Day's 50th Anniversary theme of "climate action," there's no better time to teach students the importance of civic virtues and engagement.
For the next few months, we will be sharing vetted and creative materials for teaching civics in K-12 classrooms. You can look forward to PopEd lessons where students not only learn about pressing global issues but also practice the skills needed to tackle them.
We'll share lessons where students debate positions as stakeholders, critically analyze the effectiveness of environmental laws, practice identifying bias in data sources, and get involved in service learning to improve their local communities.
Here's a sneak peek of what's in store:
Why Focus on Civics Education?
Sadly, civics education has been slowly demoted to the back seat in many American classrooms over the past few decades. According to results of the National Assessment of Education Progress (NAEP) civics exam, less than a quarter of eighth graders are considered proficient in civics, and achievement levels have remained essentially the same since 1998.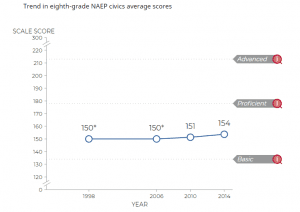 And even in states that have strong civics requirements (many do not), they tend to focus on acquisition of knowledge and facts rather than on promoting civic action like community engagement, activism, and service learning. Given the scale and complexity of the issues we'll face in the next century, it's crucial that the next generation do more than just know about civics and how governments work. They must also become active citizens who will vote, think independently and critically, and be motivated to improve the future.
Don't forget to follow along on Facebook or Twitter for fun and effective classroom resources that teach civic virtues. #PopEdCivics #PopEdTheme
Image credits: 9/20 Climate Strike in New York City by mathiaswasik is licensed under CC BY 2.0; Civics score graph (NAEP Civics Assessment, 2014)