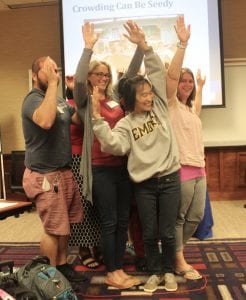 Our PopEd team enjoyed some southern hospitality last weekend when we hosted our 2018 Fall Leadership Institute in Atlanta. The event, held at the Emory Conference Center Hotel, brought together 27 prospective new members of our Population Education Trainers Network (PETNet) to engage in K-12 classroom activities, learn about PopEd's workshop model and share ideas on the curriculum and professional development opportunities.
This fall's event focused on creating more capacity for reaching educators in the Atlanta area and across the region – including Georgia, eastern Tennessee, and Alabama. We were joined by teacher educators from colleges and universities in the area (Spelman, Kennessaw State, Brenau, Auburn, University of Tennessee, Piedmont, University of Montevallo), teachers from area school districts, PD providers from state educational service agencies, and environmental educators from area nonprofit organizations. A few others traveled from as far as Chicago and Boulder, Colorado.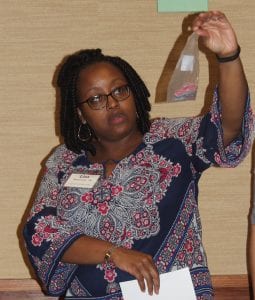 Sensitive to educators' busy fall calendars, we limited our face-to-face time to just one day. Even so, we prepped the participants for many weeks leading up the event with teaching materials, "how to" videos, and our trainers' manual. When we came together, we could focus our time on meaningful interactions around the teaching activities used in teacher training workshops and the best way to convey population issues for different ages.
As a follow-up to the event, attendees will now be completing "homework" – outlining their plans to facilitate upcoming workshops at their universities, area school districts, and professional teaching conferences.
We can't wait to work with these new trainers, and they are already setting up PopEd workshops for this semester!