Summer is almost here and with its arrival, time to catch up on some pleasure reading. So whether you need book ideas for your morning coffee on the patio, a family road trip to see grandma, to lighten the mood of a rainy camping trip, or just for relaxing on your couch – we're here to help. This book list covers many topics near and dear to us at Population Education, with some non-fiction, fiction, beautiful prose and take-action inspiration. Happy reading!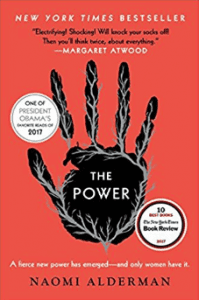 1. The Power by Naomi Alderman ~ What would happen if one day teenage women found that they had an immense physical power? Read Alderman's account of a world where gender roles reverse and the world changes drastically, making us reflect on the world we live in today.
2. Bee Quest by Dave Goulson ~ David Goulson recounts his time traveling from Poland to Patagonia to find the world's most elusive and rare bees. Told with humor and wit, the author's love for nature makes him "the perfect traveling companion."
3. The Songs of Trees: Stories from Nature's Greatest Connectors by David George Haskell ~ In this artistically written book, Haskell studies a dozen trees from various places around the world. He asserts that trees have much to teach us about the world around us and the place humans have in that world.
4. Lab Girl by Hope Jahren ~ Ever wondered what life would be like as a female scientist in a world of academic sexism? In Jahren's memoir she describes both her personal and professional lives as a female scientist with bipolar disorder.
5. Factfulness: Ten Reasons Why We're Wrong About the World – and Why Things Are Better Than You Think by Hans Rosling ~ When asked to state certain facts, why are chimps, who randomly select an answer, more often correct than humans making educated guesses? The answer is here, where Rosling uncovers the truth about the 10 human instincts that distort our perspectives.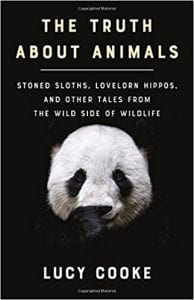 6. The Truth About Animals: Stoned Sloths, Lovelorn Hippos, and Other Tales from the Wild Side of Wildlife by Lucy Cooke ~ Cheating penguins and drunk moose? While humans have uncovered so many secrets of the natural world, there is still a lot we don't understand about animals. Cooke takes us on a worldwide journey to uncover the true habits of the animal kingdom.
7. A Path Appears: Transforming Lives, Creating Opportunity by Nicholas Kristof and Sheryl WuDunn ~ Kristof and WuDunn recount their stories from the front lines of social progress in order to explore how altruism affects us, what the markers of success are, and how we can avoid the pitfalls. Learn how to give to the many urgent challenges communities face today.
8. A Walk in the Woods: Rediscovering America on the Appalachian Trail by Bill Bryson ~ In this classic novel, Bill Bryson chronicles his travels across the Appalachian trial where he meets some interesting folks, and even some bears… Bryson is your ultimate guide to the AT with his wit and immense knowledge of the history and ecology of the area.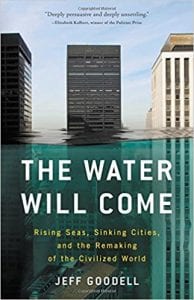 9. The Water Will Come: Rising Seas, Sinking Cities, and the Remaking of the Civilized World by Jeff Goodell ~ What if Atlantis wasn't a myth, but rather a prophecy for our future? With rising tides caused by global warming, the Earth is soon to be in crisis. Goodell travels across 12 countries and reports from the places that will be most affected by these rising tides and global climate change.
10. Sapiens: A Brief History of Humankind by Yuval Noah Harari ~ Ten thousand years ago, Homo sapiens were not the only humans to walk the Earth, so why are we the only ones left? What does the future of our species look like? In Sapiens, Harari explores these questions using both history and science.
11. The Elephant Whisperer by Lawrence Anthony ~ Asked to accept a group of rogue elephants that were to be killed onto his Thula Thula game reserve, Anthony had no choice but to accept. Creating a special bond with these animals, he shows the importance of animal conservation and what we can learn from these creatures.
12. Half Earth by E.O. Wilson ~ Pulitzer Prize-winning author and world-renowned scientist E.O. Wilson proposes a plan to preserve the biodiversity of our planet: dedicate half of the Earth's surface to nature.
13. Junk Raft: A Journey Through a Polluted Ocean by Marcus Eriksen ~ Marcus Eriksen recounts his journey from Los Angeles to Hawaii on a raft made of plastic waste. He describes the significant problems related to ocean plastic pollution that breaks down into infinitely smaller pieces, including what it means for human seafood consumers.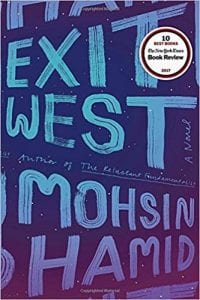 14. Exit West: A Novel by Mohsin Hamid ~ At the brink of a civil war, Nadia and Saeed meet and embark on a love affair. They soon hear of doors that can help them escape the society they live in, but at a price. They find a door and step through…
15. I am Malala: The Girl Who Stood up for Education and was Shot by the Taliban by Malala Yousafzai ~ At 10 years old, Malala Yousafzi was shot by the Taliban for fighting for her right to an education. Today, she is an international symbol of peaceful protest and a Nobel Peace Prize winner. Read her memoir to see how one young person changed the world around her.
16. The End of Plenty by Joel K. Bourne Jr. ~ Many of us are lucky to live in a world of plenty, but what about those who don't? Follow along as Bourne Jr. uncovers our fight against world hunger through the scope of a new generation of scientists and farmers.