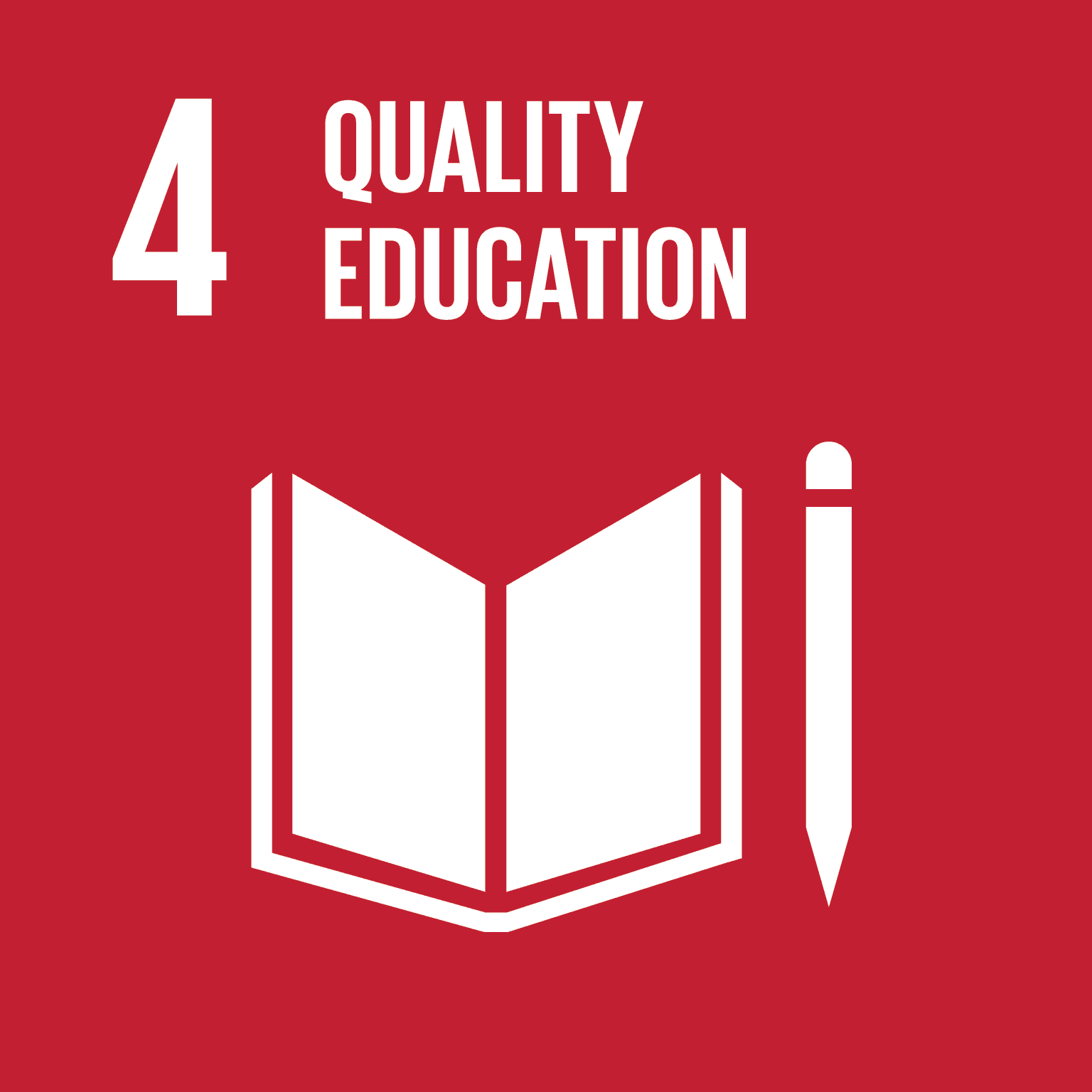 The Sustainable Development Goals, or SDGs, are the UN Member States' shared vision to end extreme poverty and promote peace for people and the planet by 2030. One of these goals is SDG 4, which aims to ensure inclusive and equitable education and promote lifelong learning opportunities for all. It is widely accepted that the SDGs, including SDG 4, apply to refugee children as much as non-refugee children. However, recent evidence shows that refugee children around the world, from Germany to Lebanon to Colombia and everywhere in between, have been excluded from these educational opportunities that are meant for "all."
40 Million Children Were Refugees In 2019
Why is it important for refugee children to be educated? Education can provide stability for children that are stateless, or displaced and living in refugee camps, as well as a better quality of life in the long run. Displacement happens for various reasons, such as natural disasters, war, poverty, and often, conflict. In 2019, more than 79.5 million people worldwide were displaced, more than half of which were children and young people. This may be exacerbated by climate change, which is expected to increase displacement and could disrupt children's access to safe schools and learning for a protracted period of time. In the long term, girls in crisis-affected contexts are at risk of being out of school for an indefinite amount of time which may lead to various socioeconomic challenges. Thus, it is imperative to their survival and their well-being that refugee children and youth acquire access to all educational opportunities. However, recent research from the international community has shown the contrary.

Where Are Refugees Living?
Children who are displaced by war or natural disaster may be living in refugee camps, they may be living in countries that have accepted refugees within their own borders, or they may be on the move and staying in temporary locations while attempting to complete a long migration journey. According to the UNHCR, an estimated 75% of current refugees live outside of refugee camps in rural, suburban and urban environments. Whether refugees live in or outside of camps, they encounter various challenges, such as accessing basic necessities, and some children are separated from their families exacerbating an already arduous life as a refugee.
These challenges highlight the necessity for countries to welcome and host refugees. The number of refugees hosted by countries vary across countries and across continents. Turkey was home to the largest number of refugees in the world at the end of 2018. Rounding out the world's top five refugee host countries are Jordan, Colombia, Pakistan, and Uganda. As of 2019, Uganda hosts the largest number of refugees in Africa.
Refugee Enrollment in Schools Globally
Refugees' rights to receive an education are protected under international law, however, on many levels, refugee children have been sidelined from acquiring an education. In 2018, 35% of refugee children were not attending primary school. Data also shows that on a global scale, about 75% were not attending secondary school, and overall, 48% of school-age refugee children were out of school. This remained the case a year later in 2019, as figures show that 127 million primary and secondary school-age refugee children and people living in crisis-affected countries were out of school, almost half of the global out of school population. These statistics served as a catalyst for governmental and non-governmental entities to push for change for refugees, internally displaced people, and asylum seekers.
Refugee Education 2030 and The Global Compact on Refugees
Organizations in the international community are strategizing to meet SDG4's goal to achieve universal education, efforts that are reflected in UNHCR's "Refugee Education 2030" strategy. This strategy aims to foster partnerships that will assist refugee, stateless, and asylum-seeking children and youth who lack access inclusive and equitable education.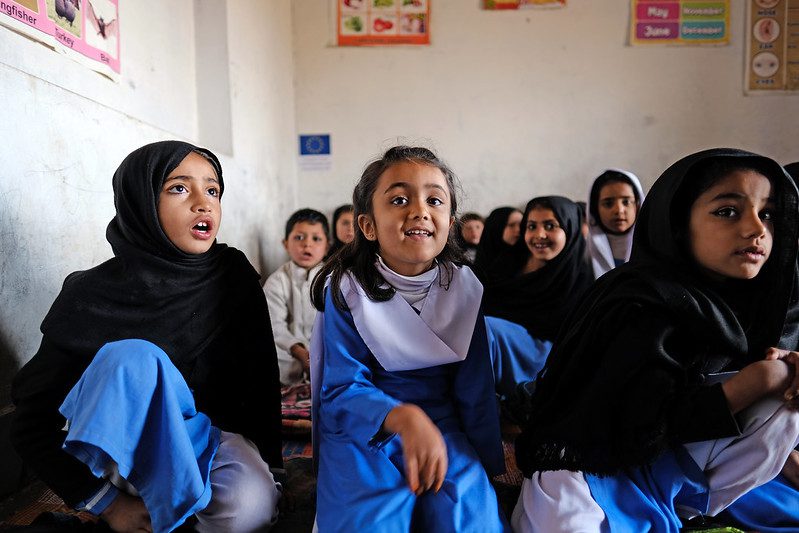 Refugee Education 2030 is in alignment with The Global Compact on Refugees, which was adopted in December 2018 by the General Assembly to share responsibilities with the international community to better protect refugees and assist host countries and communities. The objectives of the global compact are to (a) ease pressures on host countries; (b) enhance refugee self-reliance; (c) expand access to third country solutions; and (d) support conditions in countries of origin for return in safety and dignity. These goals were created to serve the needs of the refugee community in collaboration with various countries and entities.
Best Practice: Turkey
Turkey is a great example of a country that supported and protected the refugee community. In 2018, for the third consecutive year, Turkey was the largest refugee hosting country in the world, hosting approximately 3.5 million Syrians, with almost 1 million being school-aged children. Under both Turkish and International Law, children have the right to receive an education. Aligning with the goals of UNHCR's Refugee Education 2030 and The Global Compact on Refugees, NGOs, faith-based organizations, and individual donors established temporary education centers (TECs) for Syrian refugee children in the urban parts of Turkey, where a majority of refugees resided. Syrian children were successfully integrated in the Turkish national education system and could choose to attend TECs or Turkish public schools, and their choice was protected under Turkish law.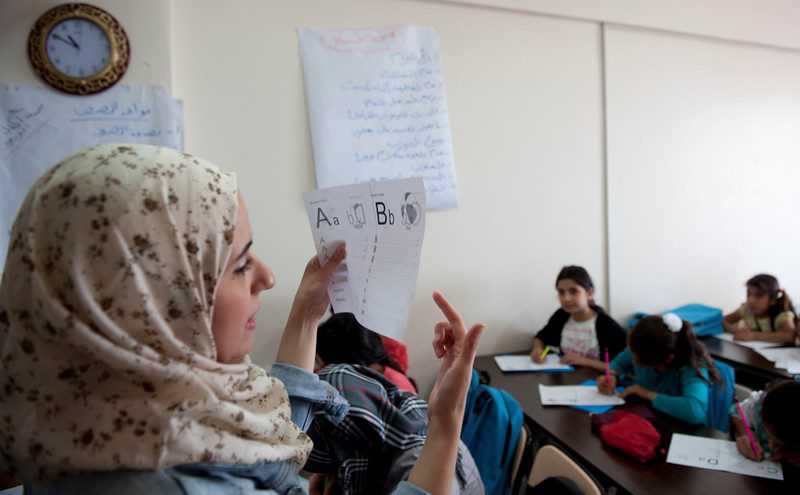 An Inclusive Future
As the world becomes more interconnected, it is imperative that society also becomes more inclusive. As conflict is prevalent in many countries, and natural disasters are occurring due as a result of climate change, the number of refugees, stateless and displaced persons will inevitably continue to increase. Hopefully the action plans for SDG 4 will also increase and the international community will continue to refer to it as an important element in initiatives and approaches to provide access to quality education for refugee children.
Image credits: Children at table (Syrian primary school children attending catch-up learning classes in Lebanon by DFID – UK Department for International Development is licensed under CC BY  2.0); Children seated on carpet (Pakistan: keeping girls at school in vulnerable districts by EU Civil Protection and Humanitarian Aid is licensed under CC BY-NC-ND 2.0) ; Teacher and students (Turkey: Assisting Refugees in Need by EU Civil Protection and Humanitarian Aid is licensed under CC BY-NC-ND 2.0)