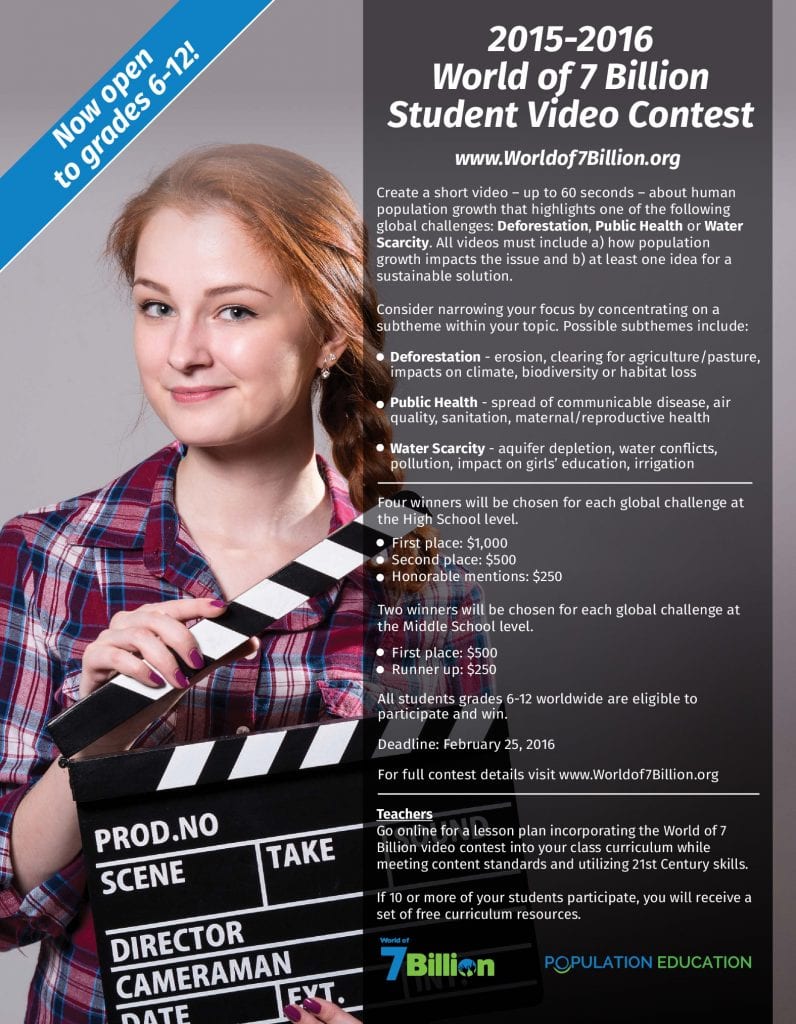 What comes to mind when you think about deforestation, public health, or water scarcity? Perhaps it is the extensive clearing of forested land for agricultural use, the recent Ebola crises in West Africa, or the record shattering drought in California. These are some of the challenges our society is grappling with and it's our job as educators to equip students with the tools to face these issues. But how can you engage students in these real-world discussions and prompt solution oriented thinking? For starters, enter the World of 7 Billion student video contest.
Each year Population Education selects timely, classroom appropriate topics that inspire students to think globally about issues that affect us all. This year, the contest will be open to middle schoolers worldwide, in addition to high school students. To enter, students choose one of the three global challenges (Deforestation, Public Health, or Water Scarcity) and create a short video (up to 60 seconds in length) that connects their topic with human population growth and provides at least one sustainable solution.
The World of 7 Billion student video contest makes for a great class project that can be incorporated into the semester over several units. Whether you're teaching Social Studies, Science, AP Human Geography, or Environmental Science the contest offers a fun angle from which to start a timely discussion on these real world issues. To top it off, creating a video is an excellent way to showcase learning and to bring in new technology skills. Student finalists will be notified by April 4th, 2016 and winners will be announced on May 10th, 2016.
The contest is open and accepting entries through February 25th, 2016. We're excited to welcome middle school participants and can't wait to see what sustainable solutions students come up with this year!