It can be overwhelming to consider the weight of plastic in our world. It feels like every day we hear something new about the Great Pacific Garbage Patch and how many Texases it's taking up or the unacceptably high concentration of microplastics in our food. We know more and more about how nasty plastic is and how ever-present, but what can we do to be part of the solution?
This Earth Day, try one of these three Pop Ed lesson plans to fight plastic fatigue with students. Each of the following lessons goes beyond the basics (like recycling or picking up litter) to find deeper ways to tackle the plastic machine. These are all written for a middle school audience but can certainly be adapted up or down if you teach elementary or high school students.
Lesson 1: Scraps into Soil Lab
This lesson plan contains all the guidance you need to conduct a composting lab in the classroom. Science teachers, rejoice—a scaffolded lab sheet guides students through the full scientific method, including identifying independent and dependent variables. Students observe the decomposition (or, spoiler alert, lack thereof!) of four sets of items: yard waste, food waste, paper products, and man-made materials like plastic and aluminum foil. Not only does the lesson reinforce science skills as students analyze the difference between organic and inorganic materials, but it has a by-product of some great, nutrient-rich compost. You can easily tie social responsibility, global issues, and food waste into the Scraps into Soil lesson plan as well.
Lesson 2: Market Research
This lesson introduces a new vocabulary word to your middle school students—precycling, the practice of selecting products with efficient packaging and minimal wrapping. Ideally, you should conduct the lesson during a mini field trip to a local supermarket. However, if that's not an option, you can have fun playing store in the classroom by bringing in some grocery items in various sizes and packages. Students divide into teams to complete one of five unique challenges, each examining the environmental impact of shoppers' decisions. Math is integrated as students calculate prices per unit, determine proportions of shoppers using excess plastic bags, and consider the ecological pros and cons of buying in bulk. It's never too early to be a responsible consumer, especially when it comes to reducing harmful packaging waste.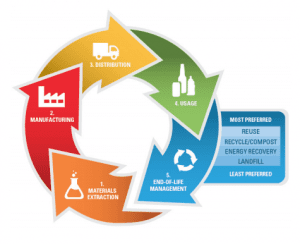 Lesson 3: Secret Life of Stuff
Think about the life your t-shirt has lived before it reached your hands—from a cotton plant to a garment factory to the store where you bought it. This lesson plan guides students through a Life Cycle Analysis of common items they use, looking at both social and environmental factors. We think of plastic as a disposable material, like in water bottles or shopping bags, but what about your earbuds or your sneakers? This is an excellent lesson to get students thinking about how their own decisions as consumers have consequences, and that everything is connected to everything else. Even better, the Secret Life of Stuff lesson plan is available for free download on our site!
These are just a few ways to embrace this year's Earth Day theme in new, interesting, and actionable ways. Download Secret Life of Stuff for free and consider buying our full middle school curriculum, People and the Planet, to access Scraps Into Soil, Market Research, and dozens more like them!
Image credits: Life cycle analysis graphic (EPA)