For the next two months, we'll be sharing free, downloadable lesson plans and other K-12 teaching resources for engaging students with water issues locally, regionally, and globally. To get the lessons and digital materials, follow PopEd on Facebook, Twitter, or Instagram, or #PopEdWater !
This Month's PopEd Theme: Water Resources
Water is critical to life on Earth. Nearly 75% of the Earth's surface is covered in it, and yet we face unprecedented challenges of water pollution and overuse. For the next two months, PopEd invites you to follow along while we share lesson plans, strategies and tools for teaching about the world's water in online, blended, and in-person settings.
We'll help your students dig into some big questions about water, like:
How are water resources affected by human interactions?
Does local water use have a global impact?
How much water do I use in my daily life?
How have humans impacted the water system over the past 100 years?
Additionally, the free materials will engage students with real-world data, stake-holder simulations, pollution labs, and more, while promoting global citizenship and reinforcing required standards and skills.
Get Electronic Materials for Teaching Water Across Subject Areas
Not convinced? Visit the links below for a sneak peek of what's to come!
Water Education for a Crowded World: Interactive Lessons and Tools (live webinar): Save the date for November 17th and join us to discuss and receive innovative lessons for teaching about water – from usage and uneven access, to contamination and a sustainable path forward. Take home materials will be appropriate for in-person and distance learning! Register here.
Water Case Studies (high school readings): Through two short readings, students get a detailed look at the challenges of maintaining water wells in Sub-Saharan Africa and at the changing landscape of the Aral Sea over time.
Every Drop Counts (elementary lesson): By tracking how much water they use in their daily lives, students learn about both direct uses of water, like brushing their teeth and doing dishes, but also indirect uses, like the water that goes into their food.
The Global Water Crisis in 13 Photographs: Mustafah Abdulaziz's images show how communities in Nigeria, India, Pakistan, China and Brazil are responding to the clean water crisis.
Follow along on Facebook, Instagram and Twitter for more materials that will bring the important issue of water health into your classroom. #PoPEdWater
Why Teach Water Issues?
As the world's population grows, so does the demand for water. Over the past 40 years, the world's population doubled while water use has quadrupled. And while many people on the planet take a clean fresh water supply for granted, using water in excess both directly and indirectly, 1 in 6 people globally do not have access to safe drinking water and 5 in 6 live in areas of water insecurity.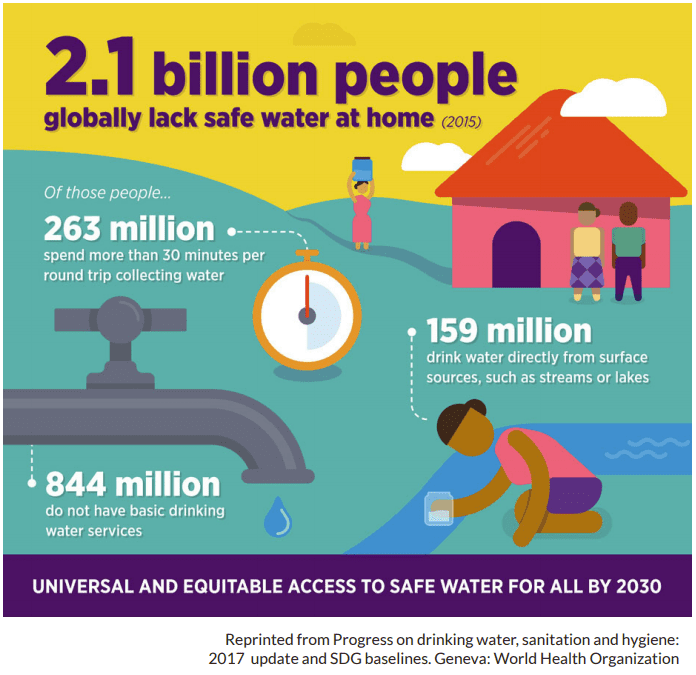 Threats to our already scarce water supply loom large and may only grow in the coming years – pollution from agricultural runoff, industrial waste, micro-plastics, wastewater, and trash contaminate our fresh water supply. Overfishing, pollution and CO2 emissions are stressing the ocean's health, leading to the progressive deterioration of marine habitats and species, while climate change is leading to longer droughts and less rain and snow. A growing population exacerbates all of these issues.
Establishing a sustainable water supply will take a commitment from leaders the world over. It's critical that today's students become informed advocates, empowered with the knowledge and skills to ensure water access, health and equity in the years ahead.