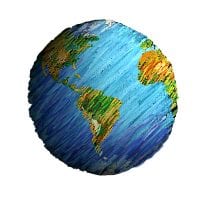 This week, November 17th– 23rd, marks the 25th annual Geography Awareness Week – a campaign organized by National Geographic aimed at increasing the awareness of geography education.
The mission of the program states that, "Too many young Americans are unable to make effective decisions, understand geo-spatial issues, or even recognize their impacts as global citizens. National Geographic created Geography Awareness Week to raise awareness of this dangerous deficiency in American education and excite people about geography as both a discipline and as a part of everyday life."
According to National Geographic, over 100,000 Americans will be participating in Geo Week this year, using games, activities, and simulations to explore the complex connections between people and their environments. Here at PopEd, this is music to our ears! As our human population continues to grow, it is crucial that students understand that people both impact and are impacted by our natural world. And that the more of us there are, the more aware we need to be.
This year's Geography Week theme is The New Age of Exploration, focusing on how geography allows us all to be explorers in our own way. And rolled into the week (on Wednesday, November 20th) will be the annual celebration of Geographic Information Systems (GIS) day. We have a number of materials that fit into both of these important topics. One of our most popular activities is a powerful simulation called Food for Thought, which explores how our world geo-regions compare in terms of demographics, quality of life indicators, wealth and energy use. And the activity, Development in Motion, would be an excellent way to bring GIS into the discussion as it uses the software, Gapminder World, to draw connections between demographic data and the UN Millennium Development goals.
We hope that you will join us, National Geographic, and a number of other organizations this week in spreading the message that all 7.2 billion of us, young and old, are part of the intertwined relationship between people and place.  Happy Geography Week!