Giving Students a Perspective on the Community Impact of Climate Change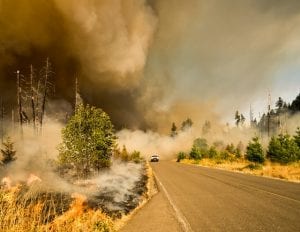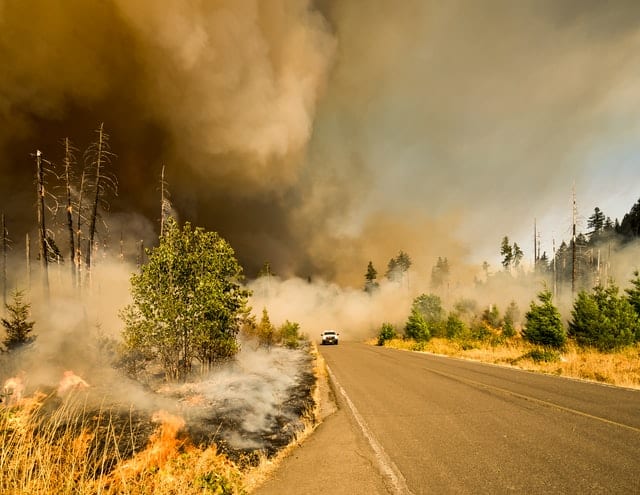 "Like all communities in Sonoma County, ours has been deeply traumatized by wildfire," said Lauren*, a Kindergarten teacher in Santa Rosa, California, a place where deadly fires ravaged her county in 2017 and 2019. "I talk with [students] about the smoke and fire to address this trauma…[Climate change] has come up when they ask why we have fire," she said, adding that she keeps the discussions at the "kinder level," and always in context of what they're already learning.
Across the country, teachers like Lauren are finding ways to talk about climate change in their classrooms. This is especially true when, like in Lauren's case, the impacts are drastically felt in their own communities.
However, while 97 percent of scientists worldwide agree that climate change is happening and that it's caused by humans, there are no state standards that require schools to teach about climate change in the social studies. When climate change is taught, it is mostly restricted to science classrooms. Teaching climate change in the social studies is often left to specific school districts to decide, or, more commonly, in the hands of individual teachers.
Why Teach Climate Change in the Social Studies?
I had the opportunity to speak with Dr. Lori Kumler, an associate professor of political science and international studies at the University of Mt. Union, who researches collective action within the social studies, youth civic engagement, and environmental policy, about why social studies classrooms are a fitting place for teaching climate change. "While students may learn about climate change in science class, they may not be able to make the connection that our political institutions are responsible for the big climate change decisions, such as policies that affect [greenhouse gas] emissions," Dr. Kumler said by email. "Climate change is a social, political, and economic problem, and therefore we must help students understand it as such in our social studies classrooms." Teaching and talking about climate change through these lenses can help students develop skills to think critically, problem-solve, and collaborate with others to find solutions to the complex challenges today and ahead.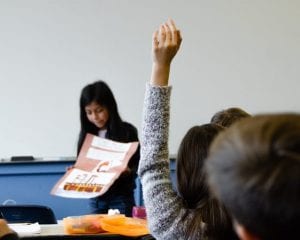 However, deciding to teach about or even mention climate change by name in the classroom is not always an easy, or a popular, idea. "One obvious barrier is that many state social studies standards do not include climate change as a stated topic," Dr. Kumler said. "Of course, climate change can fit within a great many social studies standards even if it is not explicitly named, but its absence from standards makes it less likely to be covered." She shared that her sense is that social studies teachers seek to be as objective as possible in the classroom due to dominant perceptions that the nation is politically polarized and that climate change is a polarized topic within some communities, adding "At the same time, part of the mission of social studies teachers is to help students to engage in analytical thinking and debate of controversial topics."
In our globalized world, school districts, administrators, state standards, and teachers must support and advance climate change teaching so it is an integral part of social studies education.
What Subjects Connect Well with Climate Change?
Climate change is anthropogenic, meaning it is caused by human activities. So the social studies, the study of social relationships and societies, provides a great entry point for talking about these complex climate relationships, as well as how societies can address the climate crisis. No matter what subject you teach, here are some reasons why it's important to teach climate change, and ideas for bringing these conversations to your students.
Climate Change in the History Classroom
In history, students can explore how the rise of industrialization has influenced and changed the Earth and societies. Dr. Kumler recommends teachers look to past policies or speeches, like former President LBJ's here and here, which publicly reference carbon dioxide in a lesser-known historical connection. This can be an entry point into looking at how past actions and policies have fueled our consumption patterns today, which contributes to rising emissions. In the U.S. today, industry accounts for 22 percent of our country's greenhouse gas emissions, as factories emit gasses like C02 into the atmosphere during the production of raw materials and goods.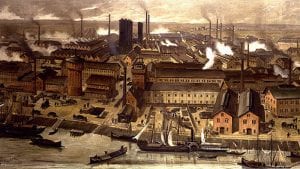 California's EEI curriculum does an amazing job of teaching climate change through a historic lens, with the world history unit New Imperialism: The Search for Natural Resources where students "investigate decision-making processes used by industrialized nations in the mid-1800s." Another unit is on the gold rush which examines the environmental impacts of mining for gold. Looking at the past can be a way to examine how industry and imperialism have impacted and altered the Earth, which can lead to discussions about the topic of industry's impacts on the planet today.
Geography Classes are a Great Fit for Teaching Climate Change
Humans' impact on the natural world, and the natural world's impact on humans, is an important reason to teach climate change in geography. The UN estimates that by 2050, there can be anywhere between 25 million to 1 billion environmental migrants, people who leave their home permanently or temporarily due to natural disasters, droughts, floods, and other climate-change fueled events. The world is also rapidly urbanizing, and by 2050, two out of every three people will live in urban areas, making people more vulnerable to climate change's impacts, especially in poorer communities.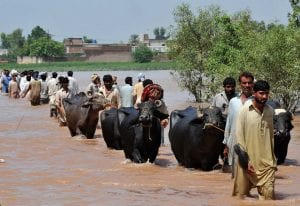 How can our world prepare and adapt to these changes and migration patterns? How do human activities and land use, like deforestation, fuel climate change? How does agricultural land-use, much of which is used for beef production, contribute to the world's current emissions? These topics fit well into two of the five themes of geography: "Human/Environment Interactions" and "Movement." As our population continues to grow, what are the challenges ahead and possible ways we can curb climate change? Geography class is a perfect place to discuss and debate these important topics.
Government and Civics Classes Can Include Climate Change Too
Following the Youth Climate Strike in September 2019, students demanding policy changes around climate is gaining momentum. Government and civics teachers play a crucial part in equipping students with the skills and support to become engaged citizens, which is a central focus of the C3 Framework. Climate change and climate action are perfect topics for meeting these teaching requirements.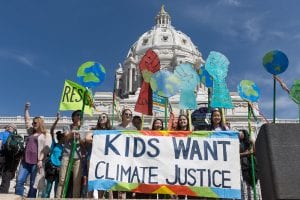 "Climate Change in the Social Studies Classroom: A Why and How Guide to Using the C3 Framework" by Dr. Lori Kumler and Dr. Bethany Vosburg-Bluem provides a list of compelling questions to frame climate change discussions for civics learning. For example, you can ask students to analyze and compare the roles of local and national governments with intergovernmental organizations in mitigating and adapting to climate change, be it natural disaster preparedness or sustainable energy policies. For a local project, students can take a survey of their local community's public transportation, and develop a sustainable transportation plan to present to the city council. You can also dive into debates about why climate change is a contentious issue in some communities, or have students examine and report on the landmark youth climate case Juliana v. the United States. The U.S. Supreme Court threw out the case in Spring 2020, stating that while the 21 youth plaintiffs "have made a compelling case that action is needed… reluctantly, we conclude that such relief is beyond our constitutional power." The case will now go to appeals.
Teaching Climate Change with Economics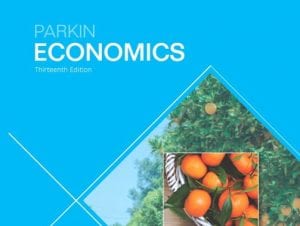 Economics is a critical part of the climate change discussion, yet in a recent study of 27 Intro to Economy college textbooks, only 10 clearly mentioned a consensus on climate science, while four framed the science behind it as still not settled. Give your students a leg-up and bring this crucial conversation to them early. Is economic growth compatible with climate change mitigation efforts? What does a green economy look like? What countries consume and emit the most? These are just some questions that students can analyze and discuss to link climate and economics.
Remember to Highlight Environmental and Climate Justice Issues
In all of these subject areas, climate justice is an important theme to elevate. As stated by the UN, "The impacts of climate change will not be borne equally or fairly, between rich and poor, women and men, and older and younger generations." Climate justice is a subset of environmental justice, which the EPA defines as "the fair treatment and meaningful involvement of all people regardless of race, color, national origin, or income" with "equal protection from environmental and health hazards" and "equal access to the decision making process." Social studies classrooms are the perfect place to debate, research, analyze, and communicate what fuels climate injustice, and find solutions for how our societies can remedy it.
For some examples, look at Hurricane Harvey, where poorer communities in Houston, Texas suffered more devastation from the flooding and continue to experience struggles in recovery efforts. Through a public policy lens for government class, students could examine how urban planning is a climate justice issue, and compare how different cities and states are preparing for, and recovering from, climate-changed fueled natural disasters. Are all communities protected equitably and involved in the decision-making process? In history class, you can look at cases of environmental injustice through the lens of westward expansion, looking at the impacts of uranium mining on Navajo land. Connect those issues to today, where Native American activists are at the forefront of climate justice for their communities, as climate impacts their land and water.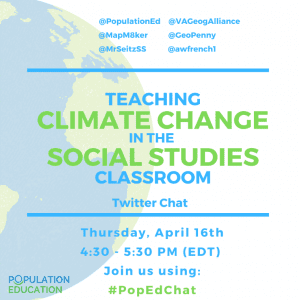 Next Steps and More Resources for Teaching Climate Change in the Social Studies
If you want to further discuss teaching climate change in the social studies classroom with other educators and expects, join us on Twitter at April 16th at 4:30 PM (EDT). The twitter chat "Teaching Climate Change in the Social Studies" will allow us all to share ideas and learn from each other, including those of you already doing the work. Find and join the conversation using #PopEdChat!
School administrators and school districts must also support and help teachers advance climate change teaching in their classrooms. Whether that means encouraging discussion and collaboration across departments or helping connect teachers with professional development, it's important for climate change lessons to be easily integrated into existing curriculum, and to give teachers the support to bring these crucial conversations to the forefront.
Image Credits: Big Fall Creek Road, Lowell, US Wildfire (Marcus Kauffman on Unsplash); Girl in front of room (Taylor Wilcox on Unsplash); The BASF-chemical factories in Ludwigshafen, Germany in 1881 by Robert Friedrich Stieler (1847–1908) (Public domain); Displaced people fleeing Sindh streamed into Balochistan by Abdul Majeed Goraya/IRIN is licensed under CC BY 2.0; Kids Want Climate Justice, Minnesota March For Science, St Paul by Lorie Shaull is licensed under CC BY-SA 2.0; Economics textbook cover (pearson.com)