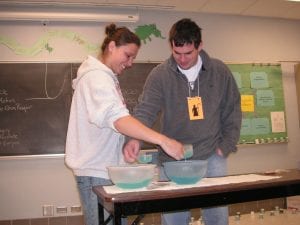 Over the past five years, Population Education has facilitated over 1,800 workshops for college and university pre-service classes in North America. That comes as no surprise to us. These days more than ever, education professors are looking for high-quality professional development to prepare their students for the rigors of classroom teaching in the 21st century. Professors agree that our workshops fit the bill.
In pre-service workshops, students actively participate in a series of Population Ed activities that are tailored to course content and the subject area and grade level they will go on to teach. Our activities range from grades Prek-12 and are relevant to instruction in science, social studies, math, environmental education, as well as integrated studies. By participating in our pre-service workshops, future teachers see examples of highly engaging teaching strategies, like hands-on and inquiry based learning, and are exposed to materials that tie content across the curriculum and meet state and national level standards and frameworks (Common Core, Next Generation Science, 21st Century Learning, Environmental Learning Plans). And by getting to do the activities, rather than just hear about them, the activities and methodologies "stick" – and the students have fun!
In addition to effective methodologies, future teachers also walk away with a CD-Rom full of lesson plans to help them teach environmental, global, and social issues in their classrooms. We hear time and again that these teaching materials are truly invaluable for young teachers.
The best part is, our workshops are offered free of charge for college and university classes. Request a workshop today – your future teachers will thank you!