This post should help any geography teachers who are struggling to adapt some of their favorite geography lessons for distance learning. We lay out three strategies for teaching geography online that are meaningful, accessible, and fun. And for each strategy we include examples, as well as links, to virtual lesson plans for teachers.
Hopefully the seven elearning tools and strategies outlined below are useful to you as you continue to adapt your teaching plans in 2020 and 2021.
1. Using Tailored Google Slides for Geography
Here at Population Education, the Google Suite of tools like Slides, Sheets and Google Docs have become indispensable for virtual teaching. Not only does there seem to be infinite possibilities with design and functionality, but it makes collaboration – between students and between teacher and student – easy and instantaneous. Here are three geography activities we love teaching online using Google Slides:
Unfair Race
Unfair Race is a human geography lesson that is an example of large group collaboration within a single Google Slide deck. Individual students take control of the icons spread across the bottom of the Slide that represent different countries. In this "race for health," students move their country icons up the Slide's gridded background based on health indicators within their country. The further they make their country icon up the Slide, the better positioned their country is in regards to public health. Get the Unfair Race slide deck.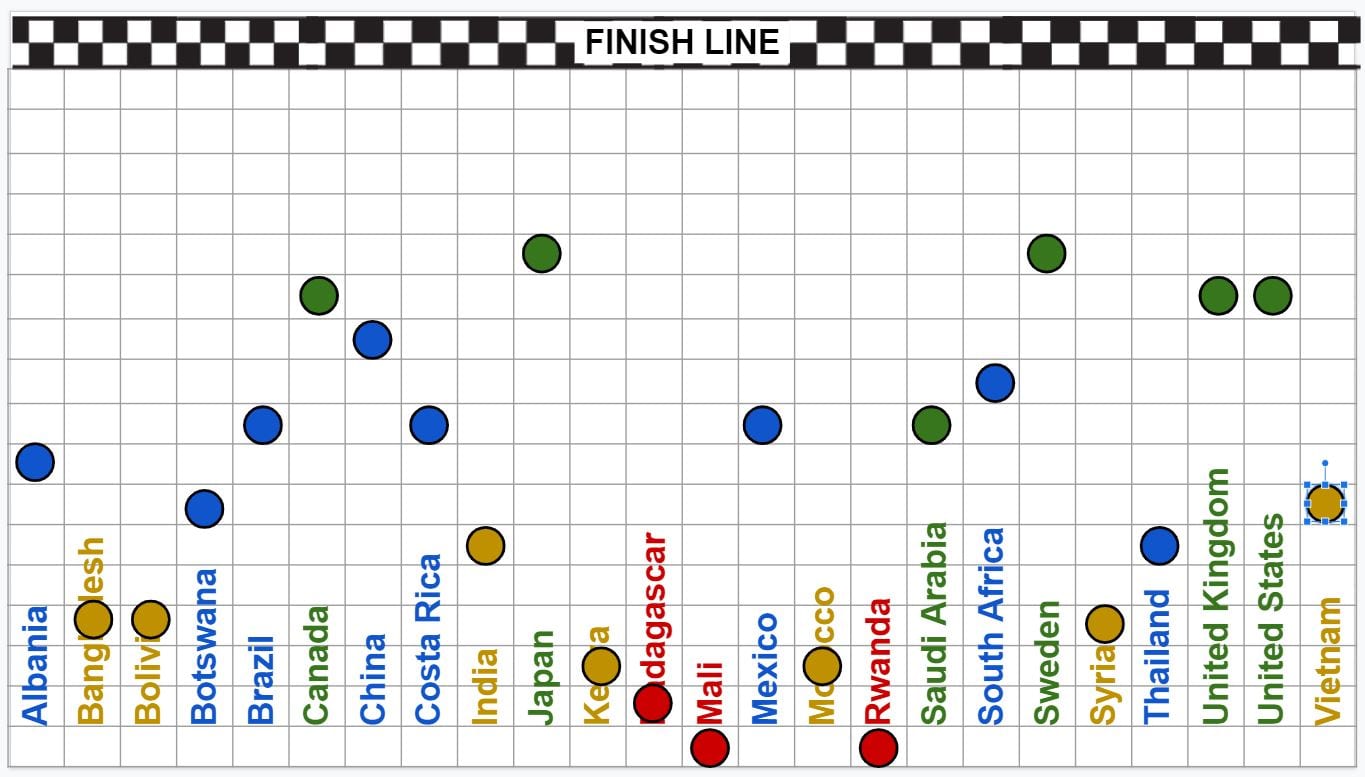 Almighty Aquifers
The middle school lesson Almighty Aquifers helps teach the geography themes of both place and human-environment interaction. Small groups of students work together within their own Google Slide deck to play an electronic board game that has them investigate the history of the Ogallala Aquifer. They will track the population of the eight Ogallala states' populations, development, and aquifer extraction using the electronic game cards and game board pre-built into the Slides. Helpful instructions are included in the slide notes field, so the student groups can work independently with little teacher supervision. Get the Almighty Aquifers slide deck.

DTM Review
The demographic transition model is a must-know item for high school students in several courses including AP Human Geography. Using this Google Slide DTM Review, students move various tagged images of DTM characteristics – such as "birth rate is high, death rate is decreasing – into the column of the appropriate stage. This simple, sharable Slide is great for students to review the DTM independently. Get the DTM Review slide deck.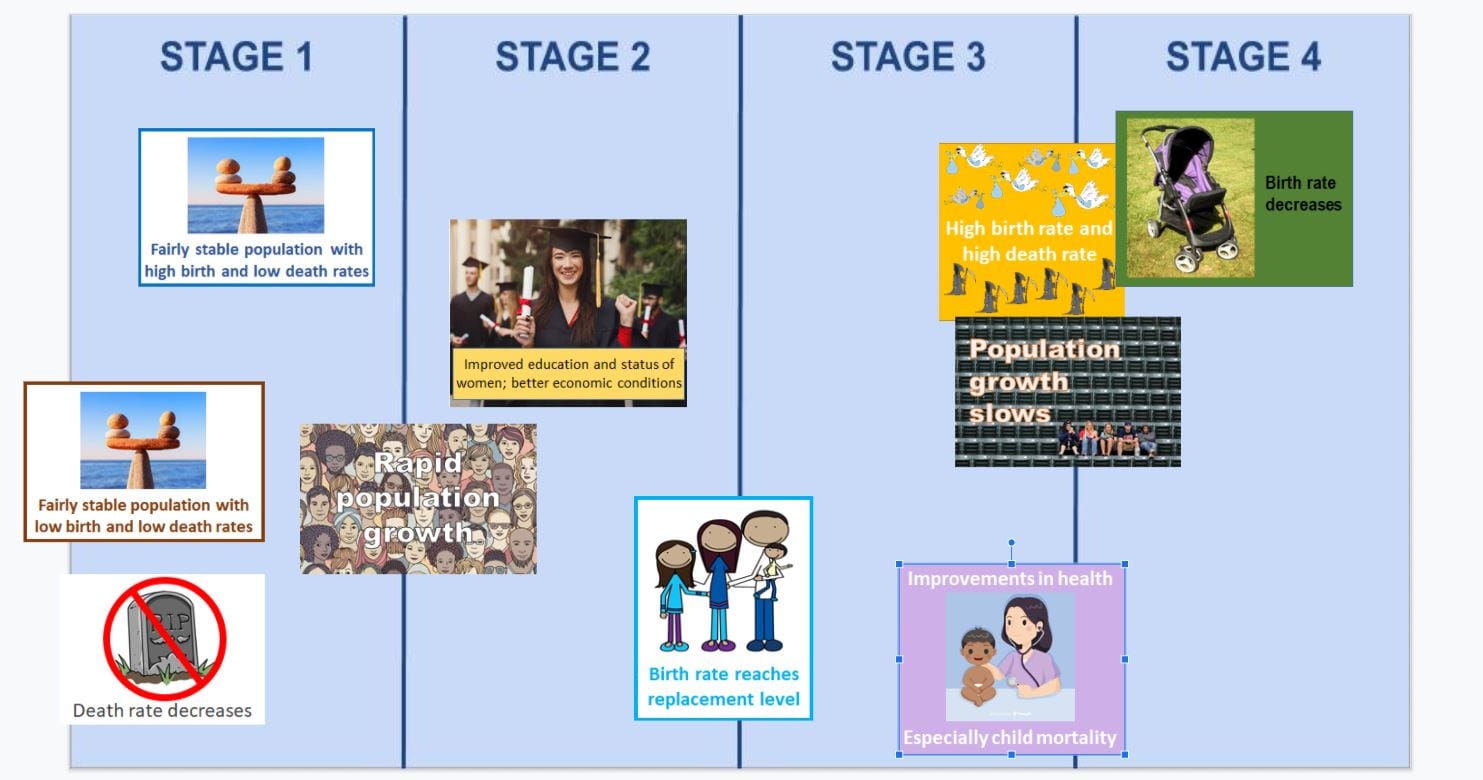 2. Making the Most of Your Webcam
By now we've all gotten used to seeing our face on camera. But this on-screen face time isn't just for morning welcomes and discussion. We love the idea of sharing visually-stimulating geography lessons while live on the webcam. Here are two geography activities to conduct on camera in your classroom today:
Who Polluted the Potomac?
When completed in person, students have an active role in the classic geography lesson "Who Polluted the Potomac" – acting as characters and adding pollutants to the river. While this particular interaction can't be replicated virtually, you can still ensure your students' participation in other ways. Come up with a hand motion that corresponds with every pollutant entering the river. For washing the car, they can do wax on-wax off motions; for construction sites, they can use their arm as a hammer and make banging noises. This will ultimately help students remember the pollutants and what happened during the story. And of course, be sure the bowl of water "river" is front and center on your webcam so students see every drop of "mysterious liquid" and "motor oil" that enters!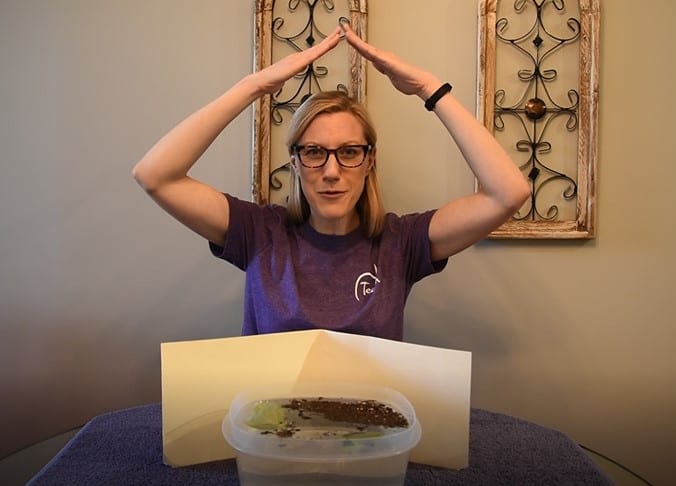 Earth: The Apple of Our Eye
Earth: The Apple of Our Eye explores both physical geography – what features make up the planet – and human geography – how good systems shape our societies. Tilt your webcam down towards a cutting board in front of your computer, and cut the apple that represents the Earth in this lesson. As you remove slices, ask students to respond verbally or in the chat to engagement questions about the types of land, where they are found, and how they are or aren't used.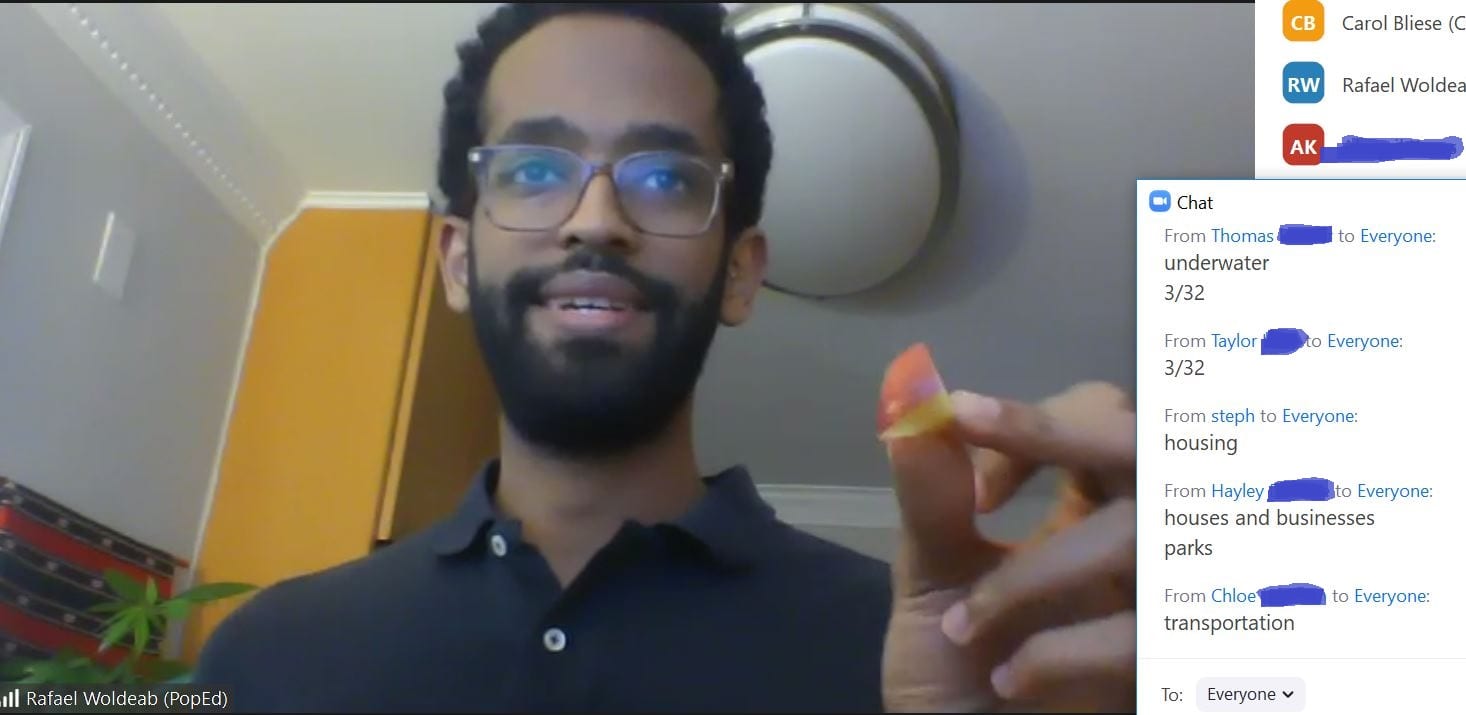 Bonus online strategy! Combine your live on-camera demonstration with this pre-made fillable Google Slide. After the apple has been cut and discussion completed, students can use the Slide to reinforce the lesson's objectives. Students will first fill in the empty pie chart with information from the demonstration as a way of recording what they learned, and will then work independently to investigate biome maps to make connections between food supply and physical geography.
3. Student-Driven Online Geography Tools
Coming up with asynchronous geography activities can be a challenge. It takes time to conceive of and create meaningful explorations for students that don't require any supervision. So we're excited to share these two online activities that are not only ready to go for independent student consumption, but provide important geography content and skills.
Let's Go
The new lesson Let's Go covers the geography themes of location, place and human-environment interaction – oh, and it's a fun, independent activity for students too! Students move through an electronic worksheet that challenges them to find their way around a particular city using Google Maps. Taking on the role of a college freshman that is new to town and exploring the city, they compare using public transit to driving in terms of both convenience and environmental impact. Let's Go is an easy-to-use and ready-to-go geography lesson plan for online teaching, and the worksheet fully guides students through the online activity with little to no teacher guidance. Get the Let's Go lesson plan and worksheets.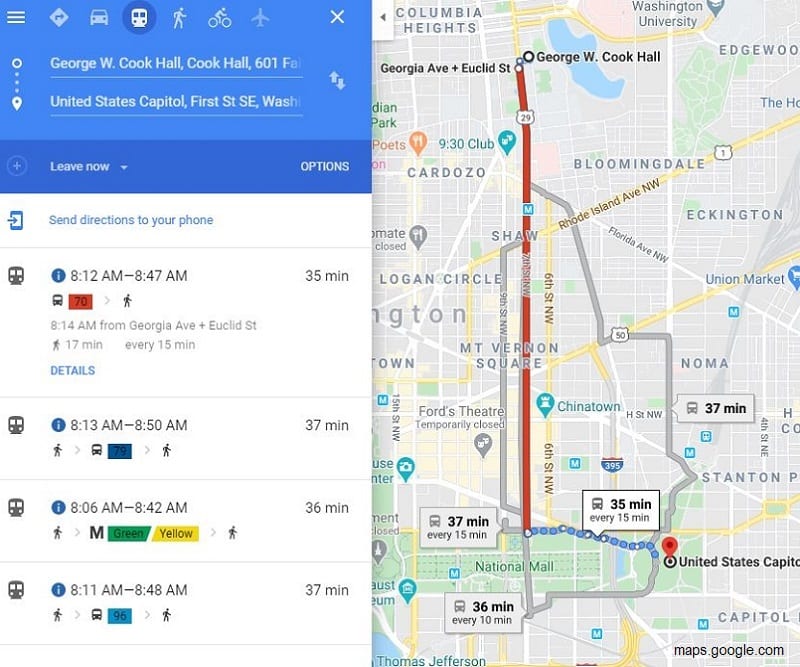 WorldPopulationHistory.org
Exploring the WorldPopulationHistory.org site is not only an opportunity for high schoolers to learn about geography and world history online, it also provides a space for them to make decisions about what they want to learn. Perhaps they'll dig into the population dots' annotations on the world map, or want to compare the population dots with one of the maps' data overlays like urbanization. The timeline is thematic, making it easy for students to focus on historic milestones that most interest them. An ever-changing population knowledge quiz and short, topical readings are available as well as the fun #MyPopNumber tool where a student enters their birthday to see what number person they were on the planet. Born on November 1, 2004? That student was the 6,501,311,475th person to join our global family.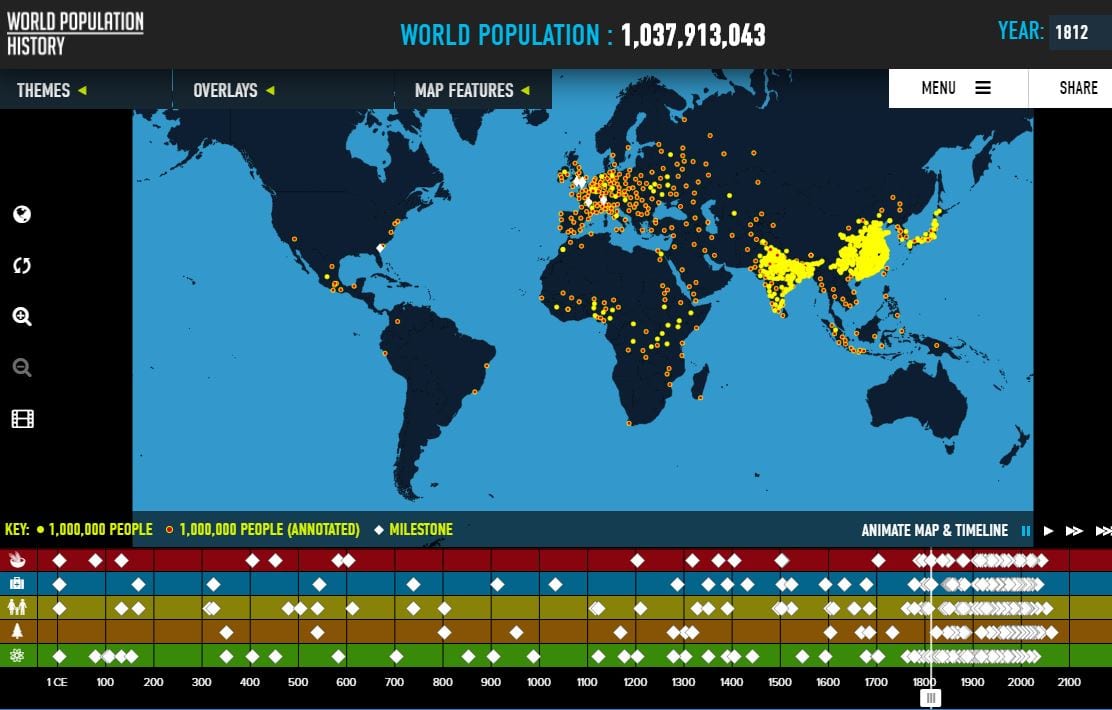 We hope this post is helpful to you as you continue to develop new online lesson plans for your classroom, and if you found these useful, consider browsing the rest of the online resources we offer.