This post has been updated as of May 6, 2020.
Our Population Education team is working to support K-12 educators (and parents) as they navigate a rapid shift to virtual learning this spring and beyond.
Let us help you!
1. We've assembled a blog, 28 Learning Activities & Lesson Plans for Students' Distance Learning at Home, with links to free downloads of activities recommended for different grade levels (elementary, middle and high school) and several disciplines (science, social studies and math).
2. Before the COVID-19 outbreak, we had dozens of in-person workshops scheduled at spring and summer teacher conferences, district in-service programs and pre-service programs on university campuses. Most of these planned events have moved successfully online in the form of webinars and "grab-and-go" short courses, and we will continue to offer teacher webinars in addition to face-to-face workshops through the summer and fall semesters.
If you are interested in an online PD for your teachers or future teachers, complete this webinar request form. We have several available formats and tailor teach online PD for the needs of your educators.
3. We are providing free teacher webinars that showcase lesson plan templates for online courses. We cover how to engage your students at home and provide pre-made virtual materials that you can use and share. Watch the recording of the webinar "Distance Learning Lessons to Celebrate Earth Day" or sign-up for our next free teacher webinar: "Counting Populations: Distance Learning Lessons to Teach About the Census."
4. If you'd like to receive updates from us on new distance learning offerings as they become available, please use this link to provide us with your email.
Other exciting news on the horizon
To celebrate Earth Day's 50th birthday, we've posted our new packets of environmental lessons – many of them suitable for distance learning. And we're also rolling out lessons this spring that support Civics Education, a cross-disciplinary theme.
Next week, we will be posting a brand new set of lessons, inspired by the 2020 Census. 330 Million in the USA will ultimately include 14 activities for middle and high school students that fit well into a U.S. History and Civics curriculum. Lessons cover changing U.S. trends (population growth, family life, immigration, transportation, political representation, environmental activism, and more) and most of these new lessons can be done successfully in your virtual classrooms. Get a sneak peak of the new census lesson Family Counts by downloading the digital lesson plan now.
You can do this!
This is a challenging and uncertain time for teachers and students across the world. We want to continue to engage with the educational community with quality materials and virtual events to support your important work. Please feel free to reach out to us with any feedback or ideas.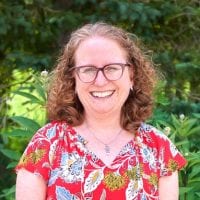 Pam Wasserman
Sr. Vice President for Education
pam@popconnect.org