This year marks the 50th anniversary of Earth Day. And as with any big anniversary celebration, Earth Day is going big and aiming high – it's taking on climate change. The theme for Earth Day 2020 is climate action. And we want to prepare you to guide, engage and inspire your students for action.
We compiled three packets of classroom lesson plans for Earth Day that are now available (lesson packet links below!) for free download. Each of these packets includes at least one student reading and 4-5 of our most popular lesson plans on humans' impact on the environment. Additionally, each packet includes call-outs to lesson plans that are especially useful in making the connection between people's actions and climate change.
Earth Day Lessons for Young Learners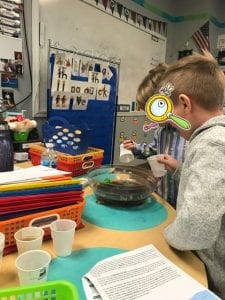 Effective environmental education in the elementary grades can masterfully connect students to the natural world while also providing relevant lessons in the core subject areas. You'll broaden young learners ecological awareness with lessons like Habitat Scramble, a fun game where students act as animals trying to survive in a changing habitat (represented by hula hoops) and Green Spaces, a lesson that includes students heading outside to measure out the green space necessary to provide for their daily oxygen needs. Waste A-Weigh and Who Polluted the River let students explore waste and pollution, and provides first-hand experience in decreasing their garbage footprint. And you won't want to miss Lend a Hand for the Earth, an art-centric lesson for early grades that helps students find ways they can be positive influencers on the planet.
Both Green Spaces and Lend a Hand for the Earth offer connections to climate action, while all of the lessons can inspire meaningful community action on other environmental concerns.
Download Elementary Earth Day Packet
Earth Day Lessons to Win Over for Middle Schoolers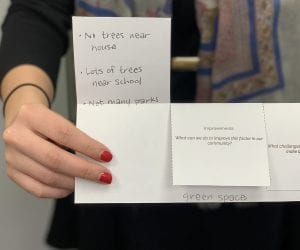 Cross-disciplinary lessons on environmental concerns and stewardship are a great opportunity for authentic learning in middle grades. Innovative lessons like Meat of the Matter and For the Common Good let students work through how their personal choices impact the natural world, as well as resource availability for others. People and Climate Change: The Data Is In, a math/science integration lesson, is sure to be a favorite of your students (engaging data and an opportunity for inquiry into climate change) and you (it includes a robust data bank of graphics, photos, various texts – no need to comb the internet for appropriate and accurate data!). And while What's Up In The Air takes students back in time to explore the Donora Death Smog and how a city was devastated by an air pollution incident, the lesson In Search of Sustainable Life lets them be agents of change as they create a sustainability index for their community and consider how to best meet the needs of all citizens and the planet.
All of these lessons can be related to climate, but Meat of the Matter takes an especially unique look at the problem by connecting it to diet – the types of protein people eat and the emissions that occur as a result.
Download Middle School Earth Day Packet
High School Lesson Plans for a Meaningful Earth Day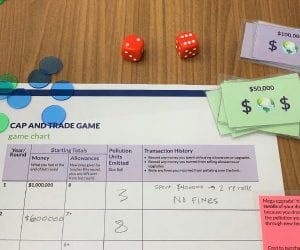 For high school students, concerns over climate change might be something they hear about on a weekly basis – it's in the news and on people's minds. Climate change is also in most states' curricula. We love the Cap and Trade Game lesson plan for allowing students to discover one method of curbing total emissions through a simulation where they must choose priorities and consider cost-benefits. Doing a life-cycle analysis through Secret Life of Tees is also highly engaging and authentic – how does the shirt on our back impact the global atmosphere, people in other countries, and the natural world? Code Blue: Endangered Oceans and Earth: The Apple of Our Eye are two of our most popular Earth Day lessons – both provide incredibly memorable visuals on the limited resources we depend on for survival and how our actions affect those resources.
Download High School Earth Day Packet
Teen Activism Toolkit – A Great Earth Day Resource
You'll also want to check out our online Teen Activism Toolkit. Originally developed to engage students participating in our 'World of 7 Billion' video contest, it also provides great resources for any young person looking to use their talents and enthusiasm to be change agents.
The toolkit outlines six areas of activities for all degrees of civic engagement:
Practice What You Preach – Ideas for individual changes students can make in their daily lives; includes recommended apps for tracking personal carbon output and making sustainable decisions as a consumer.
Making Changes in Your School – Students will find it easy to start an environmental club, host an assembly speaker, or advocate for new class offerings with theses step-by-step guides.
Making Changes in Your Community – Goes beyond the school with advice on tabling at community events or hosting a watch party, park clean-up or food drive.
Influencing Lawmakers – From local to national, we cover attending, and speaking at, public events, contacting legislators and participating in rallies and marches. And of course, voting!
Using the Media – Students can put their phones to use with these tips for utilizing social media and hosting a podcast. Or they can take a more traditional approach and write a letter to the editor.
Fundraising for Your Cause – Money talks, and these ideas are for digital and traditional fundraising. Students can also read about peers who have successfully raised money for issues they care about – protecting coral reefs and preventing child marriage.
Your students can take action against climate change. Your students can be climate champions. And your students will inherit the future planet, so let us help you guide them to be engaged citizens on climate issues and beyond.