Our Reach
Over the past ten years (2011-2020), we have trained nearly 117,000 educators through 6,300+ Population Education workshops.
Of these, 3,866 were pre-service workshops on 500 college and university campuses around the United States and Canada.
The PopEd Workshop Experience
Online and in-person PopEd workshops, led by top-notch facilitators, allow teachers to experience Population Education's engaging lessons in action and always include a take-home curriculum ready for classroom use. Educators consistently rate PopEd workshops as superior to other PD events they've attended.
These bar graphs show how teachers responded to the following: In comparison to other professional development workshops you've attended, how did the Population Education workshop compare in terms of…

Population Education Materials in the Classroom
Nearly all workshop participants use the materials they receive at PopEd workshops, integrating lessons throughout the year to teach a variety of topics and standards.

98% of Population Education both online and in-person workshop attendees rated the demonstrated materials as Excellent/Good.
95% of participants feel that Population Education materials have Excellent/Good alignment with their required teaching standards.
Student Engagement
PopEd lessons engage students, improve critical thinking, and inspire youth to advocate for positive solutions to global challenges. We asked teachers if they agree with the following statements: The Population Education materials I used in my classroom…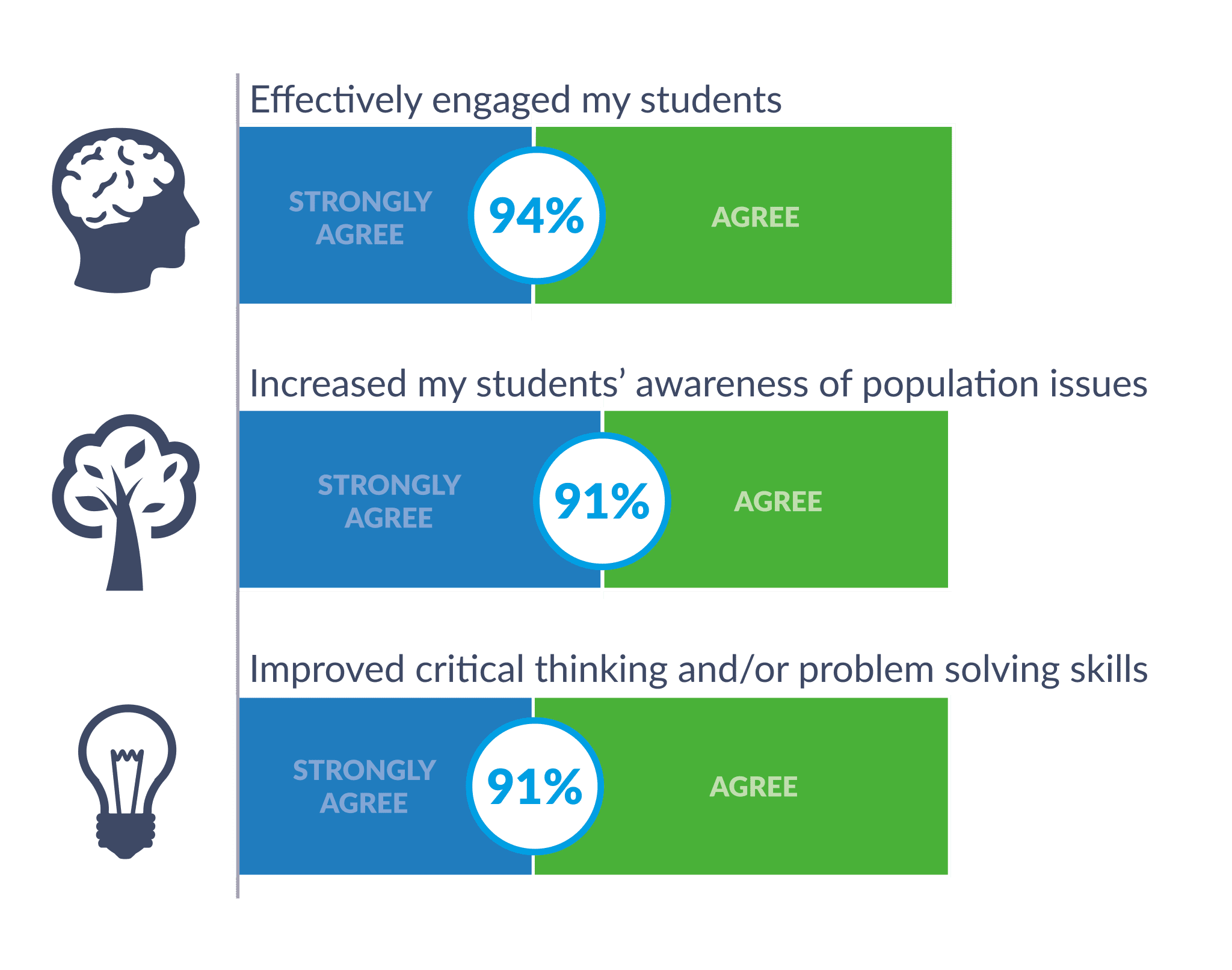 95% of teachers found that Population Education materials effectively engaged their students while also increasing students' awareness of population-related issues.
9 out of 10 teachers saw Population Education materials increase their students' critical thinking and/or problem solving skills.
See PopEd's 2019-2020 report on Highlights & Impacts of Teacher Workshops.
---
*Survey results from 2019 and 2020 workshop participants (1,009). The survey was administered 12-24 months after attending a Population Education workshop.