Our Reach
Over the past seven years (2010-2016), we have trained over 78,000 educators through 4,000+ Population Education workshops.
Of these, 2,600+ were pre-service workshops on 399 college and university campuses around the United States.
The Workshop Experience*
4 out of 5 teachers rank Population Education workshops superior to other professional development they've attended with respect to content, usefulness and presentation quality.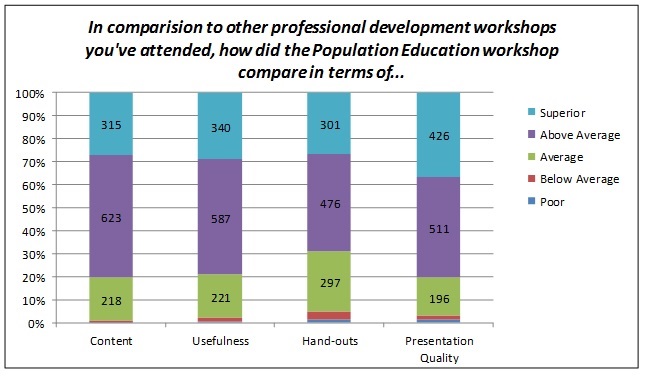 Using Population Education in the Classroom*
97% of Population Education workshop attendees rated the demonstrated materials as Excellent/Good.
95% of workshop participants plan to use Population Education activities in their classrooms.
92% of participants feel that Population Education materials have "Good" or "Excellent" alignment with their required teaching standards.
Student Engagement*
More than 9 out of 10 teachers found that Population Education materials effectively engaged their students.
87% of teachers saw Population Education materials increase their students' critical thinking and/or problem solving skills.
"Do you agree with the following statements – The materials I presented…"

Most teachers agree that Population Education activities not only increased students' awareness of population issues but impacted how the think about the issue and behave.
"Do you agree with the following statements – The materials I presented…"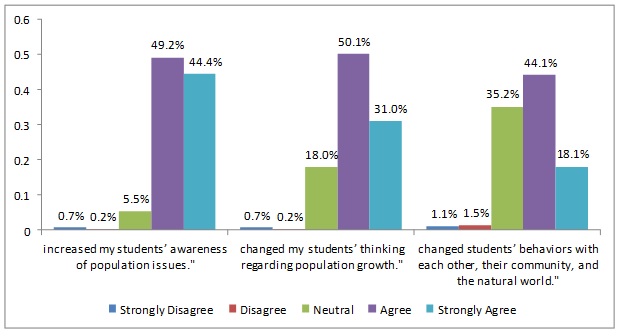 ---
*Survey results from 2015 and 2016 workshop participants (1,313). The survey was administered 12-24 months after attending a Population Education workshop.