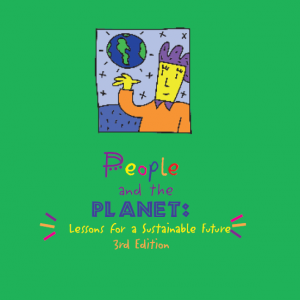 In our increasingly interdependent world, People and the Planet is a must for the middle school classroom. It helps students to understand their relationship to the natural environment and to other members of the global family. Inspire students to be problem solvers and "to think globally and act locally."
As an interdisciplinary, environmental education and global studies guide in one, People and the Planet covers concepts and objectives central to science, social studies, math and family life education. Through 33 hands-on (and minds-on!) activities and 4 readings, students explore the interconnections of human population growth, natural resource use, solid waste management, biodiversity, social justice and community well-being. 
People and the Planet is extremely teacher-friendly with it's easy to use graphical interface. Reproducible student worksheets, a comprehensive teacher's guide, background readings and motivational activities that require only minimal preparation are stored as PDF files and are only a mouse click away! 
CD-ROM (Windows/Macintosh). © 2010
Testimonials
Dedicated teachers using this kit in middle school classes will enjoy a rewarding experience of achieving environmental stewardship goals among many of their young readers. 
American Association for the Advancement of Science, Science Books and Films
This kit is filled with practical ideas.  The implication of science problems and decisions in our society is touched in every lesson.
National Science Teachers Association
A diversity of perspectives and human circumstances are explored with sensitivity.  Encourages students to form their own opinions based on collected information and observations.
World Wildlife Fund/North American Association for Environmental Education, The Biodiversity Collection
Received an "A" from the California Department of Education – A+ for Pedagogy! – "Good repository of classic activities – well chosen and aligned to build mastery of goals." "Great student materials – excellent information." "Many excellent models and simulations."
Preview Activities
Educating Wanjiku (pdf): Students read a short story on the education of two girls in Kenya, answer discussion questions and interpret a graph on the relationship between education and family size.
Everything is Connected (pdf): Students identify ways that many factors in human society and the natural environment are interdependent by creating a concept map.
For the Common Good (Something for Everyone) (pdf): Simulations in which students compete for natural resources in a commons, then discuss the social dilemmas that arise. See the demonstration video »
The Stork and the Grim Reaper (pdf): In a short demonstration, students observe how populations grow when the birth rate exceeds the death rate (and then explore differences between these two rates for various countries.) See the demonstration video »
Take a Stand (pdf): Students articulate their thoughts about the ethical issues related to population and the environment, and consider the opinions of their classmates.
Preview Readings
You're One in Seven Billion! (pdf): A middle-grades reading on the history and ecological context of population growth.
The Balance of Nature (pdf): A middle-grades reading on the availability and consumption of natural resources.
Related Products